Not so long ago, a salad without dressing was the only vegan option on fast food menus. In 2022, if the craving for a juicy vegan burger strikes, just about any restaurant can deliver, including Burger King where the Impossible Whopper has become a mainstay. These days, it's no longer a quest for a vegan option on a menu, as entire businesses are now centered around vegan burgers.
And all-vegan fast food chains continue to grow nationally, with PLNT Burger expanding in the East, Plant Power Fast Food in the West, Slutty Vegan in the South and Canadian chain Odd Burger coming to the Greater North. This month, comedian Kevin Hart got into the vegan burger game with the opening of Hart House, a vegan fast-food concept he wants to expand to compete with classic chains like McDonald's, Wendy's and Chick- Fil-A, but with vegan food made to serve the modern consumer.
It's hard to deny that vegan burgers are still on the rise, but the vegan movement isn't just about the bun. Various companies are looking to revolutionize the deli market, a $300 billion global industry, with vegan versions of popular meats, from ready-made deli slices to cheese-stuffed gourmet vegan salami sandwiches.
plantcraft
Vegan bologna, pepperoni and mortadella
While pioneering brands such as Tofurky and Field Roast have offered vegan deli slices for many years, newcomers to this space, which includes Prime Roots and Unreal Deli, are looking to take the category to new levels. This month, vegan brand Plantcraft is launching its vegan bologna through a partnership with Plantega, a vegan concept that aims to democratize vegan food by making it accessible at local bodegas (or convenience stores) in New York City.
From now until September 26, Plantega – at four bodega locations, which are subject to change – is offering a classic vegan bologna sandwich that includes Plantcraft's pea protein deli meats as well as mustard, vegan mayonnaise, vegan cheese, lettuce and tomato on sliced ​​bread.
"Our goal is to make plant-based foods easier to access everywhere," said Nil Zacharias, founder and CEO of Plantega, in a statement. "Our menu features iconic sandwiches that are familiar to New Yorkers and make it easier and more appealing to try something plant-based. Our new, limited-edition Classic Bologna Sandwich featuring Plantcraft's 100% Plant-Based Bologna is a great example of encouraging consumers to try something familiar and satisfying. We know it will be a huge hit for hungry consumers looking for delicious plant-based options, and for our local bodegas who want to embrace the future of food and serve better options in their communities.
In addition to Plantcraft, South Korean brand UNLIMEAT has just announced that it has completed the development of plant-based mortadella and pepperoni in partnership with Bayerische Fleischerschule Landshut, a German charcuterie institute that has helped UNLIMEAT to ensure their plant-based meats, made succulent with a new formulation of vegan fat – mimicking their European originals.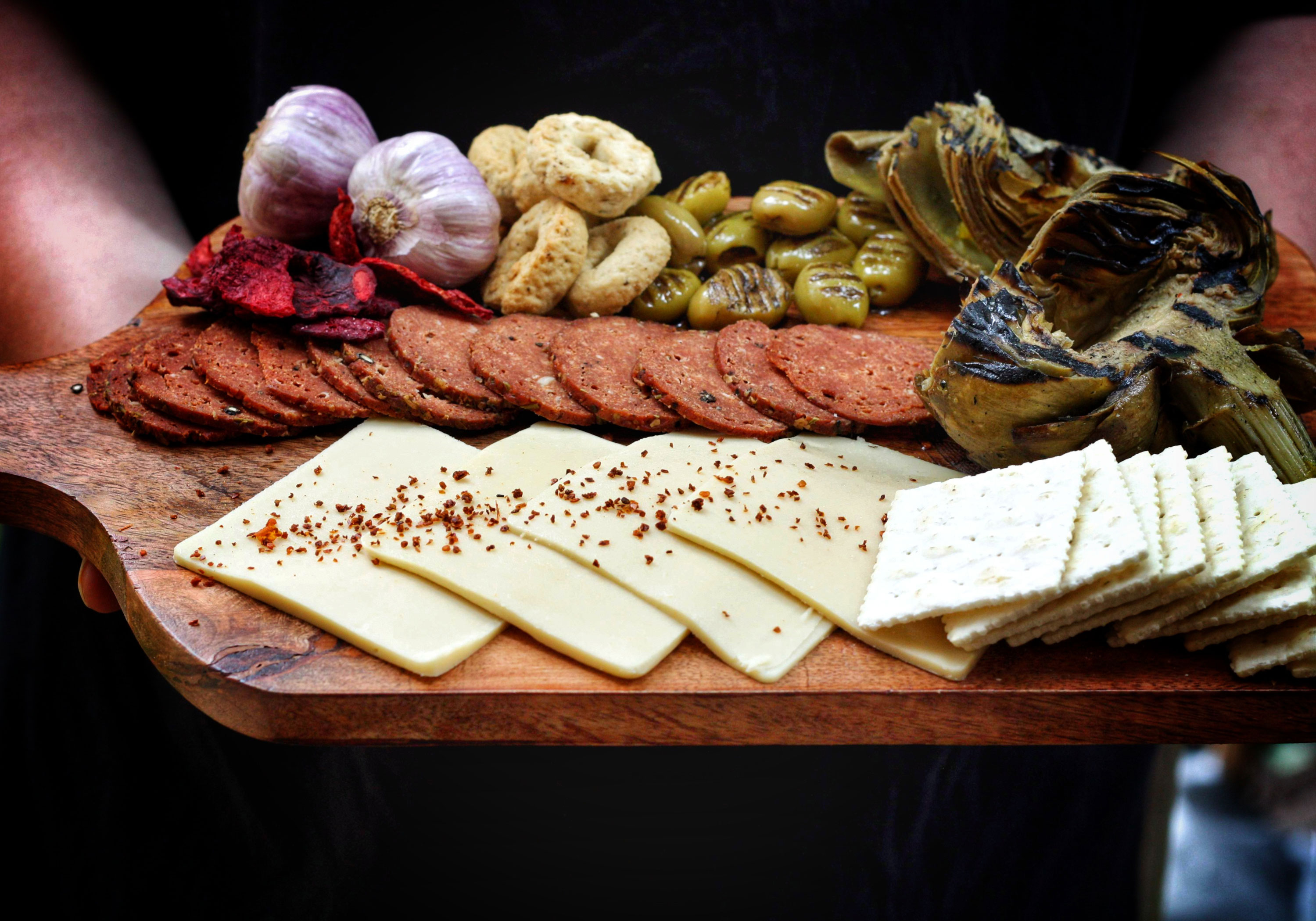 The non-creamery
Vegan charcuterie at its best
The other end of the deli spectrum — gourmet deli meats — is also heading for a plant-based revolution. Northern California-based company Renegade Foods makes vegan salami to modernize deli boards for consumers looking for cruelty-free and eco-friendly options. This month, Renegade salami became the number one vegan meat option thanks to the 112-year-old Harry & David brand known for its gourmet gift sets.
The Uncreamery is also based in Northern California and specializes in gourmet nut-based vegan cheeses such as Truffle Brie, Dill Havarti, and Ghost Pepper Jack. Founded by Lisa Myaf and partner Mark Charette, the company has been perfecting dairy-free cheese since 2016 to help vegetarians take the next step and go vegan. Now, The Uncreamery is moving into a new category: seitan-based salami that only features chunks of its vegan smoked gouda as the fat component.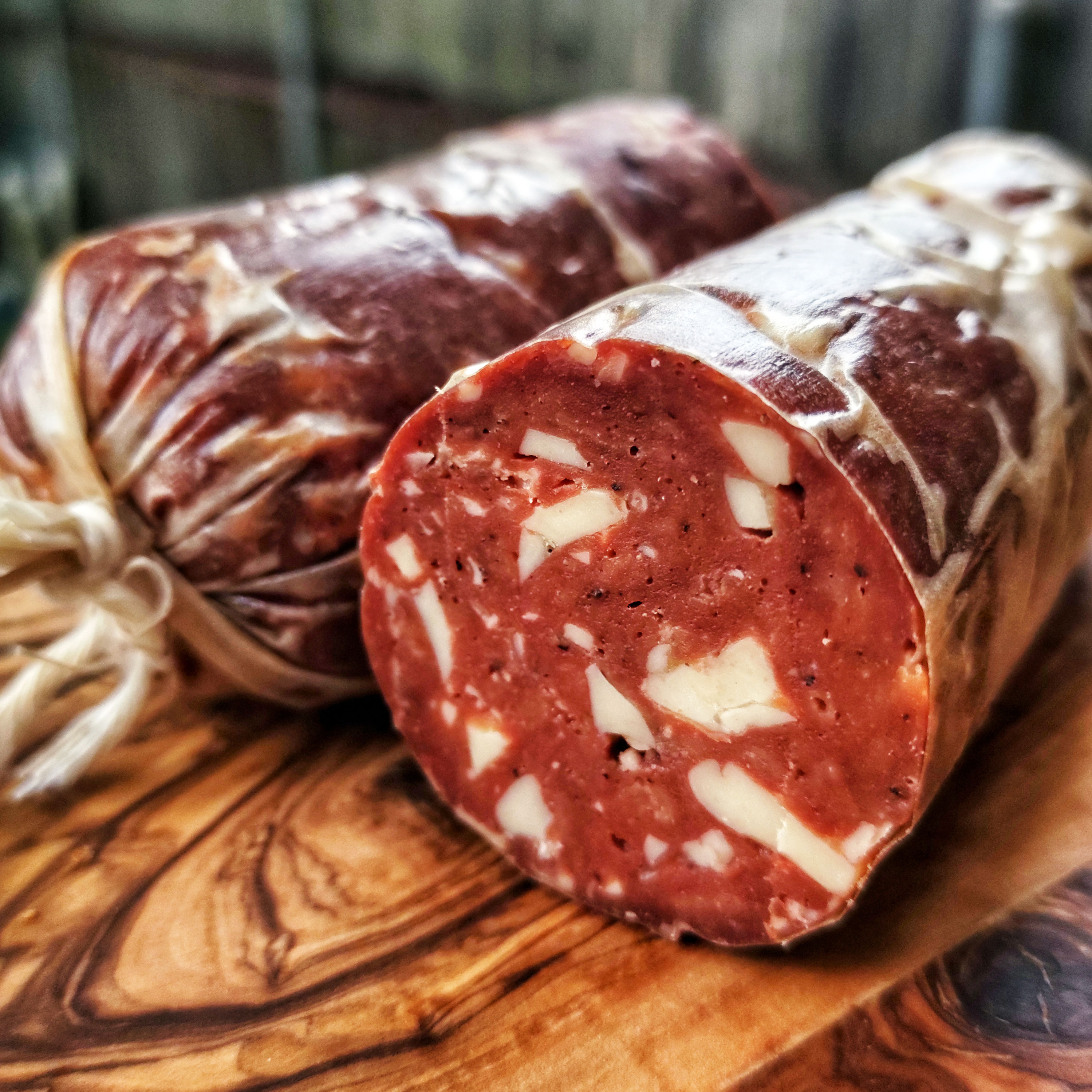 The non-creamery
"This salami recipe has been in the works for several years. Our initial dream is to one day have our own brick-and-mortar vegan butcher shop, and several types of deli meats, sausages and other seitan products have always been something we have been working on," Myaf told VegNews. . "Seitan is another of our passions. And just as there weren't a lot of great vegan cheeses back then, I feel like vegan salami is still a pretty new thing on the market and there's a lot of potential for us in this domain.
The Uncreamery recently reached its funding goal through the Kiva loan program to support its deli expansion and plans to launch its salami soon. Its cheeses are currently available in California through its own online store and at select brick-and-mortar retailers. Outside of California, The Uncreamery products are available at online vegan grocery stores Vegan Essentials, GTFO It's Vegan, and No Pig Neva.
For the latest vegan news, read:
Vegan vs. Vegan: Which Should the Food Industry Officially Adopt?
Why Harry Styles threw a chicken nugget back into the concert crowd Vegan KitKat is deployed in 15 countries. Here's where to find it.
JUST LAUNCHED!
Vote for the 2022 awards for the best vegan ice cream in the United States.
VOTE HERE
JUST LAUNCHED!
Vote for the 2022 awards for the best vegan ice cream in the United States.
VOTE HERE