Ethiopian cuisine is one of the most flavorful and intimate cuisines in the world. For those unfamiliar, it features a rainbow of colorful spiced stews that are meant to be shared and eaten by hand using injera, a spongy flatbread made from fermented teff flour that excels at absorbing flavor. It's also very vegan cuisine that you should make time for if you're in New York.
Dishes include legumes, beets, carrots, cabbage, tomatoes, and potatoes with onions, garlic, jalapeño, vibrant Berber spices, and more. Instead of sautéed meat, chefs will use mushrooms, seitan or tofu. If you're new to Ethiopian cuisine and aren't convinced yet, keep reading – the food photos will get the hang of you.
6 Spots for Fantastic Vegan Ethiopian Food in NYC
If you ever crave Ethiopian flavors and find yourself in New York, you're in luck. Here are six restaurants where you can find fantastic Ethiopian vegan cuisine:
Herbal Ras
1 Herbal Ras
For a mix of traditional plant-based Ethiopian dishes and meat-centric vegan options, head to Ras, an organic farm-to-table restaurant in Brooklyn's Crown Heights neighborhood.
To try a bit of everything, choose one of the restaurant's two platters, each offering a mix of cooked and spiced beans, savory vegetables and injera or rice. If you fancy something meaty, take your pick from the dinner section of the menu, which features spicy tofu, pea protein crumble, mushrooms and seitan ribs, a stir-fried meat dish made with a mixture generous amount of homemade Berber spices.
Drop by for brunch to find a mix of Ethiopian dishes such as fir– a casserole dish with tomato, onion, spices and grated injera – or Western dishes like vegan French toast and macaroni and cheese.
Learn more here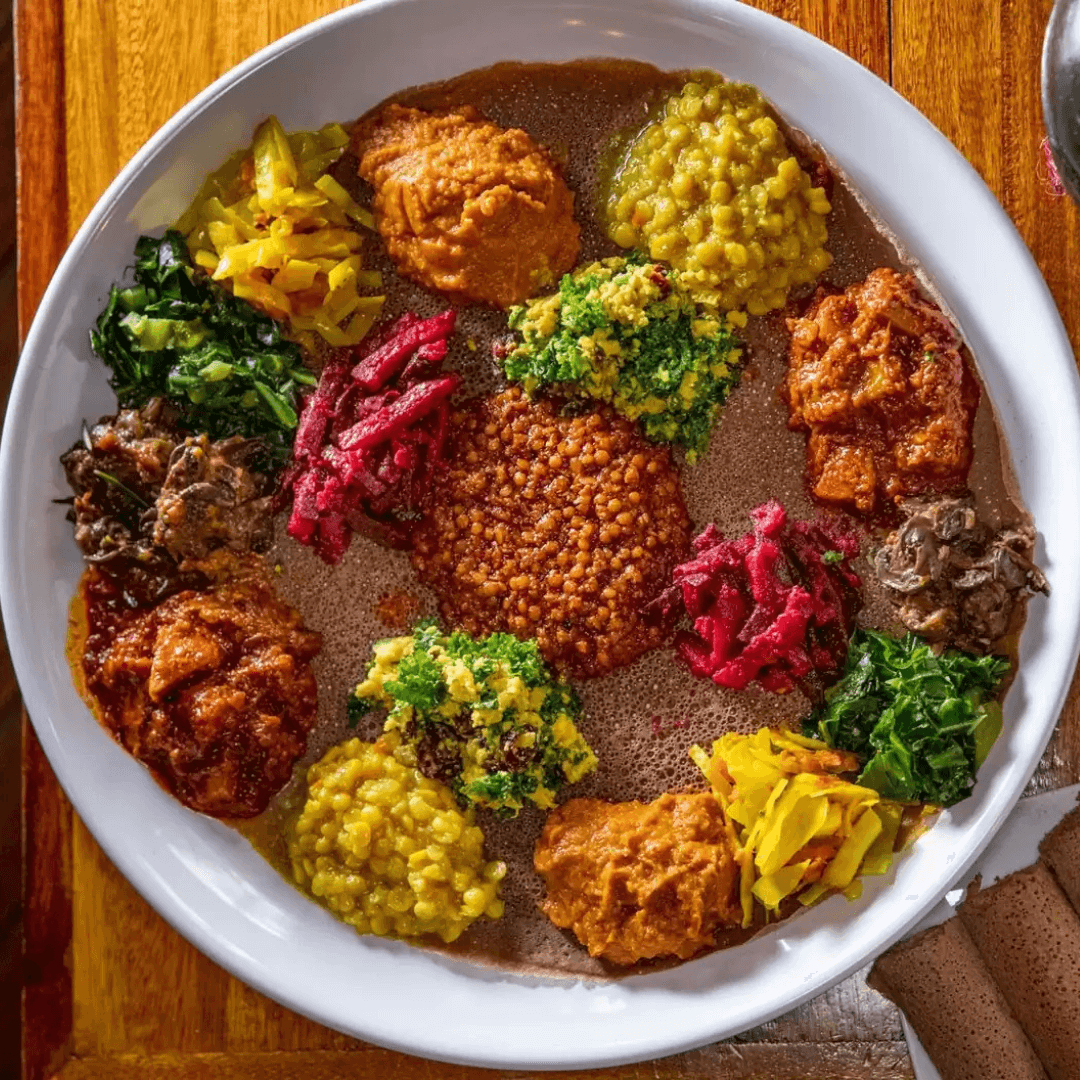 Bunna Cafe
2 Bunna Cafe
This bustling all-vegan restaurant in Bushwick, Brooklyn started out as a food truck years ago. This cozy establishment features wooden finishes and dim lighting at dinnertime, making it an intimate venue large enough to accommodate large groups of people.
As for the food itself, you will find sambusas (a tasty triangular Ethiopian pastry filled with lentils or peppers), Shiro (chickpeas simmered with spices), gomen (steamed and spiced green cabbage), mushroom tibs, and more. Platters can serve as few as two or up to nine people.
For dessert, there's vegan baklava, made with crispy, flaky filo pastry, pistachio, walnuts, and a coffee-infused sugar syrup made from demerara, a type of brown sugar with large crunchy crystals.
Speaking of coffee, don't skip it. Bunna Cafe serves it the Ethiopian way, which means it's freshly roasted, ground in a mortar and pestle, then brewed with cardamom and cloves. It has a thicker texture than drip coffee. You can attend a live Ethiopian coffee ceremony every Friday, Saturday and Sunday evening at 5:30 p.m.
Learn more here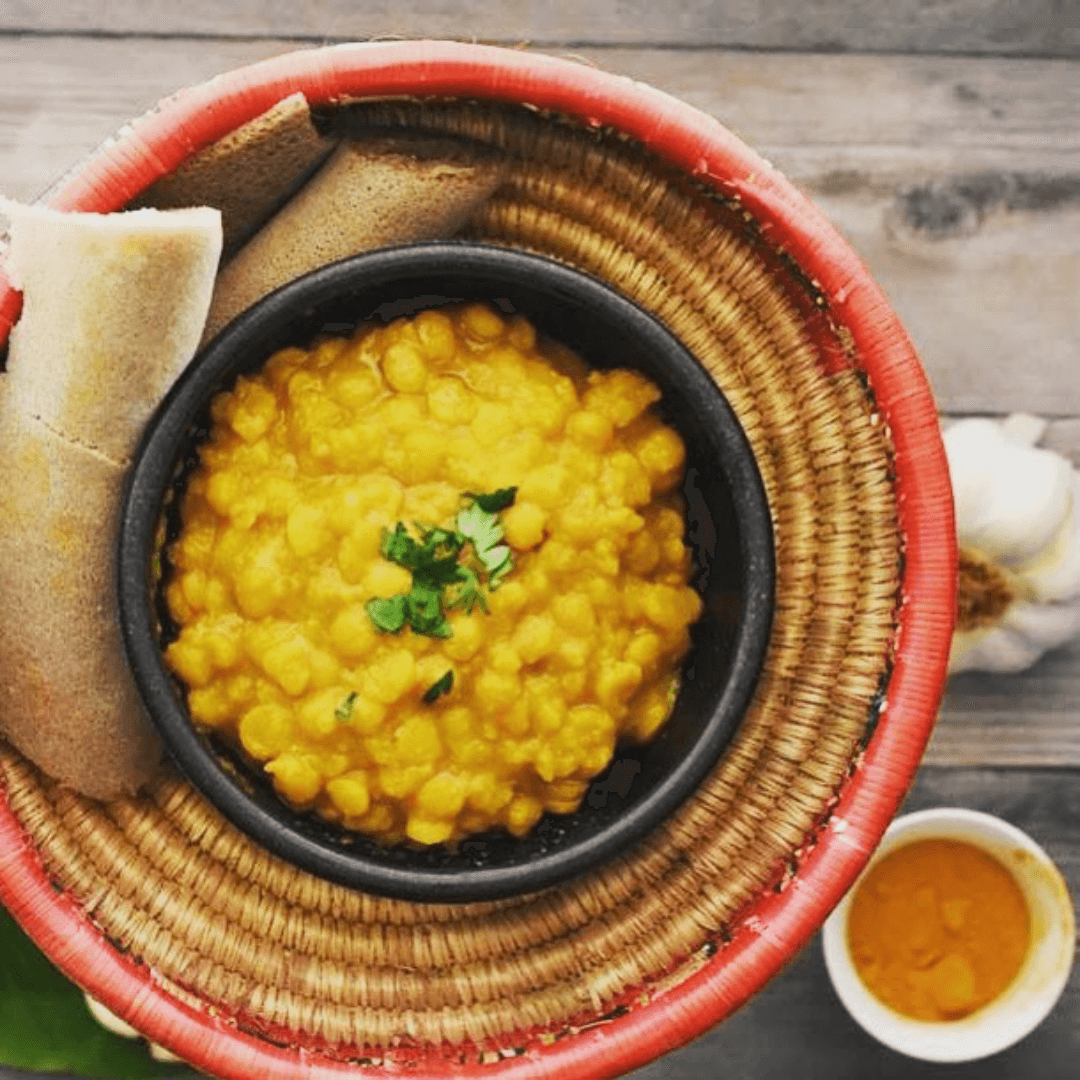 Makina Cafe
3 Makina Cafe Ethiopian-Eritrean Restaurant
Located in Long Island City, Queens, and Fort Greene Park, Brooklyn, Makina Cafe serves Ethiopian-Eritrean cuisine in a bright yellow food truck.
This means it's a pickup only, but it gives you the option of dining at a local park or enjoying an overnight stay in your apartment or hotel room. Although not completely vegan, plant-based options are noted on the menu.
The veggie bowl comes with three options from the veg section, which includes mushrooms, lentils, and split peas in addition to spice-laden veggies. You choose from a base of injera or yellow basmati rice. For an appetizer, have the lentil sambusa.
Learn more here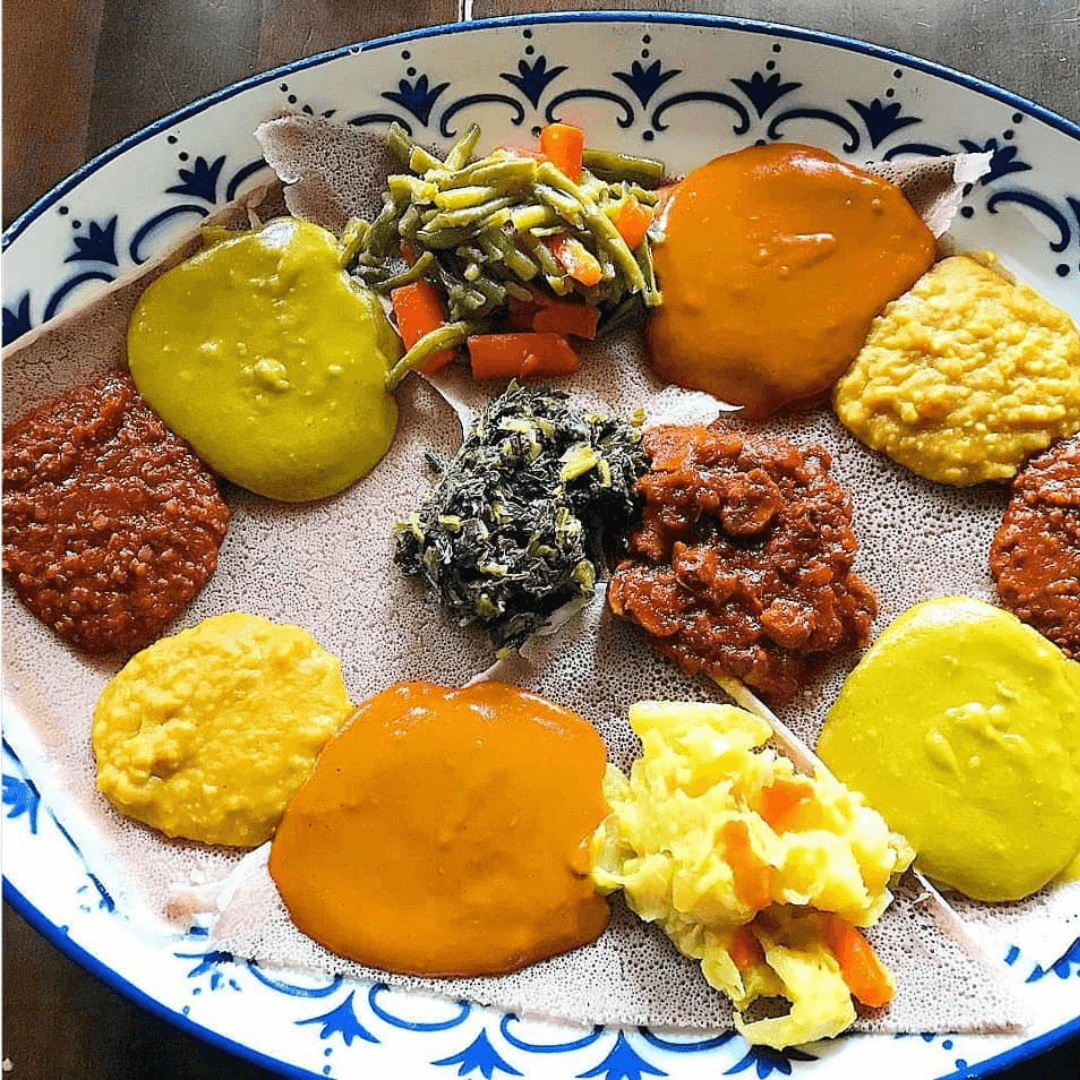 Ethiopian food bati
4 Ethiopian food bati
Bati Ethiopian Kitchen is a beloved establishment where you will find traditional vegetable dishes. The menu includes a 100% vegan menu with gomen, shiro, miss wett (spicy simmered lentils), and buticha (ground chickpeas in a mixture of onions and peppers).
Combination platters can serve two, three or four people, so it's a good place for close-knit dinners with friends and family. Pineapple juice, wine and Ethiopian beer are on the drinks menu. If you're going on the weekend, visit the Museum of Contemporary African Diaspora Arts (MoCADA), which is only open on Saturdays and Sundays. Every other day, take an after-dinner stroll through Fort Greene Historic Park.
Learn more here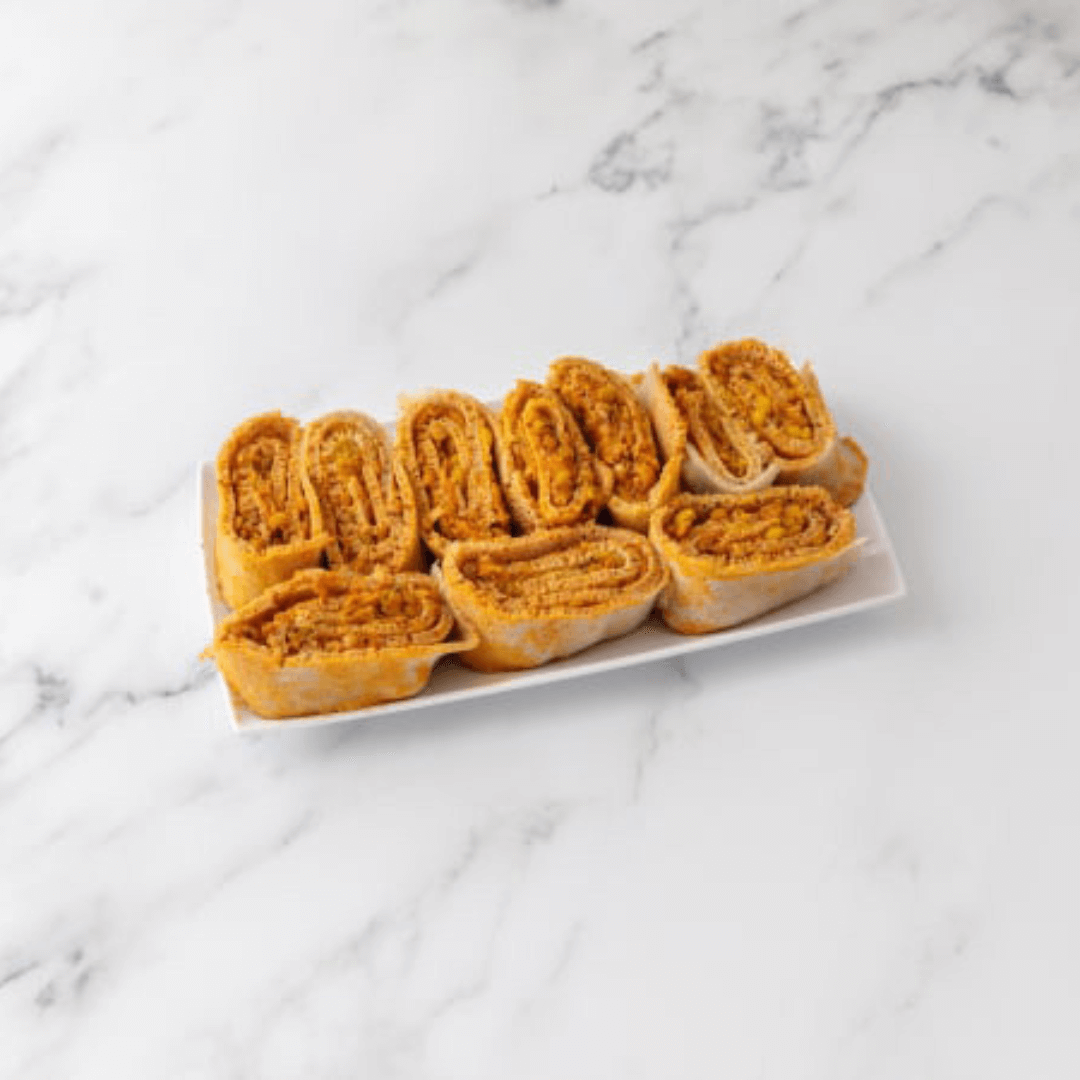 Flooded
5 Flooded
This vegan Ethiopian restaurant has a choice of three locations: the East Village and Upper West Side in Manhattan, or Cobble Hill in Brooklyn. For plant-based options, just skip to the "vegetables" section of the menu.
Here, you'll find a whole array of vibrant, vegan Ethiopian dishes by default, from shiro to key sir alisha (beets and spicy carrots cooked with onions). Try the tofu tibs, made with cubes of organic tofu sautéed with tomatoes, onions and jalapeños.
Order the vegetable sampler if you want to try a bit of everything. The meal is five vegan dishes of your choice, plus injera – always order extra.
Learn more here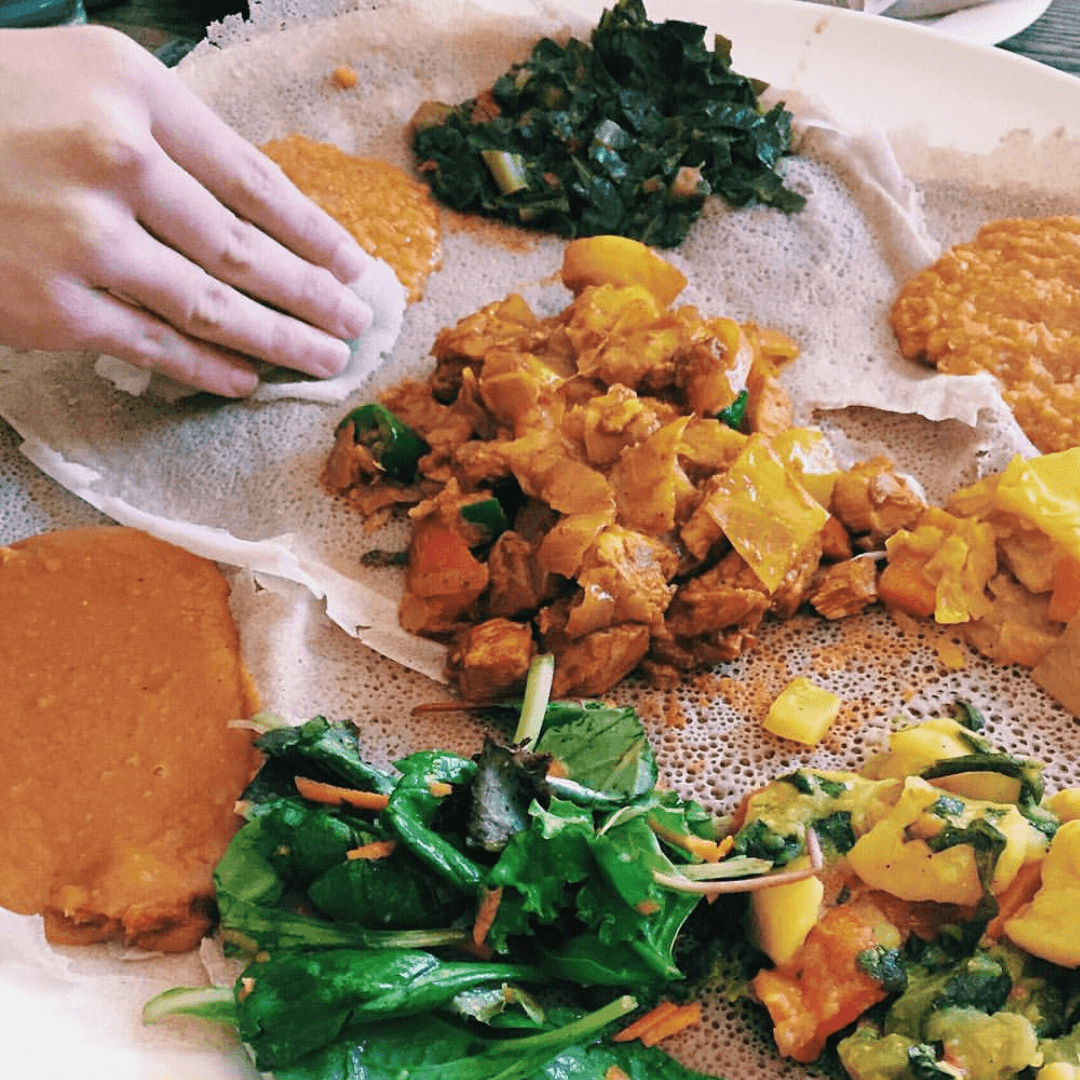 @kilenkitchen/Instagram
6 Masawa
Vegan entrees are clearly marked at this omnivorous Ethiopian restaurant in Morningside Heights, a few blocks north of Columbia University. You can order a sample tray – which comes with the injera, of course – for one or for two.
Try it moment (red lentils simmered with Berber and ginger), alycha (cabbage, potatoes, carrots and green cabbage cooked with turmeric), and the tsebhi hamli (green cabbage cooked with tomatoes and Berber). Then, enjoy the architecture of Columbia University or Morningside Park, which features winding paths, native plants, and a waterfall on a narrow strip of land that stretches 13 blocks.
Learn more here
New York's vegetarian and vegan restaurant scene allows you to sample a diverse range of global cuisines. If you're the type of person who likes to travel to eat vegan, this is well worth a visit.
For more vegan guides to New York, read:
10 new vegan restaurants in New York: from empanadas to bakeries
I found the best vegan food in Jackson Heights, Queens
16 Vegan Options at NYC's Great Outdoor Food Festival