It seems like every week in the world of vegan food news is more exciting than the last and this week is no exception. Modern dairy brand Betterland Foods has announced a new line of candy bars that revamps the classics, starting with vegan versions from Snickers and Milky Way. Cold-brew gets its own specialty creamer thanks to Califia Farms. And celebrity chef Spike Mendelsohn is unstoppable as he expands his vegan fast food chain PLNT Burger to New York and beyond. Read on to find out more.
1"Snickers" and "Milky Way" without a cow
Entrepreneur Lizanne Falsetto recognizes a good opportunity when she sees it and founded the nutrition brand think! in 1995 to meet a need for portable nutrition – a category that has since grown to $4.5 billion. For his next venture, Falsetto sees the promise of creating dairy products without exploiting cows.
WOO bars
In March, Falsetto unveiled Betterland Foods, a modern dairy brand powered by Perfect Day's animal-free whey, which the company makes through precision fermentation. Now she's taking steps to recreate some of the world's most popular candy bars with a line extension called "WOO." So far, WOO bars have launched in Salty Peanut (think Snickers bar) and Creamy Nougat (a version of the Milky Way).
"Think! revolutionized the protein bar industry," Falseto said in a statement. "Now, Betterland Foods is transforming the snacking experience for health-conscious consumers, with twice the protein, one-third the sugar and no compromise on nutrition or taste.We improve upon traditional layered chocolate bars like Milky Way and Snickers, whose formulations have not changed in over 50 years.
Falsetto's WOO bars debut at a time when chocolate giant Mars, maker of Snickers and Milky Way, is also branching out into animal-free dairy. Also made with Perfect Day's animal-free whey, Mars Test launched CO2COA bars earlier this year. The bars are a simple and creamy vegan milk chocolate reminiscent of Dove bars. Is Mars also remaking Snickers and Milky Way with animal-free whey? Only time will tell.
2Dairy-free creamer designed for cold brewing
Most creamers are developed for hot coffee and we've had a love/hate relationship with vegans based on how curdled they are. Dairy-free brand Califia Farms sidesteps all that hassle and tackles a new category: vegan creamers designed specifically for cold brew coffee. But cold coffee won't curdle your creamer, you say? True, but ice dilutes its flavor and the acidity of coffee breaks it down further.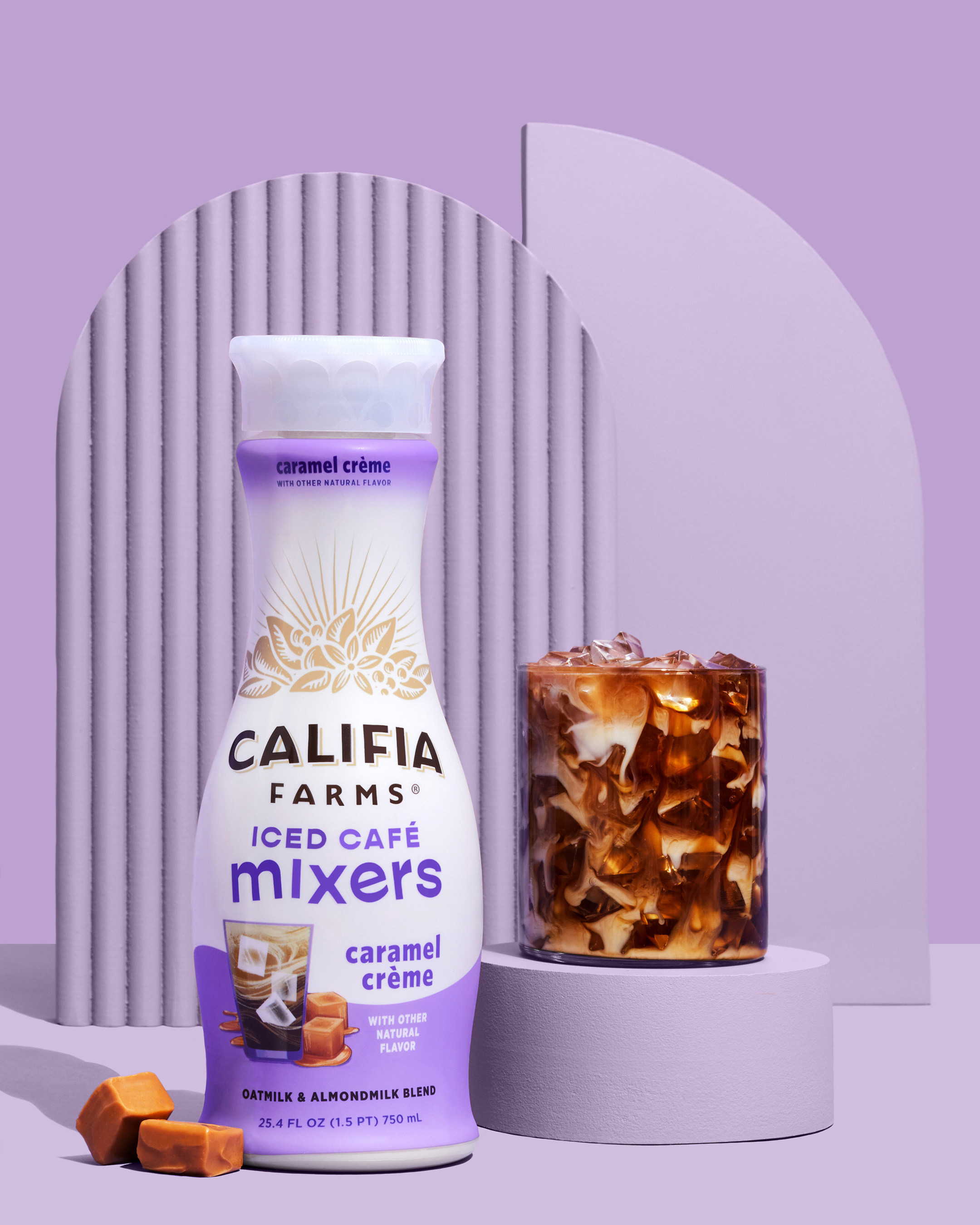 California Farms
Formulated to satisfy work-from-home lifestyles and summer cold brew cravings, Califia solves these problems with its new line of iced coffee mixers made with a blend of oat and almond milks and available in Vanilla Sweet Cream and Caramel Cream flavors.
"Gen Z and Millennials drink iced coffee all day and all year round, and we saw an opportunity to develop a breakthrough product to better meet their needs," said Suzanne Ginestro, director of the marketing at Califia Farms, in a statement. "These iced coffee mixers allow them to enjoy their iced coffee to the last drop without any compromise in flavor, creaminess or whiteness."
The new creamers come in 25.4-ounce bottles and are priced at $4.89 each.
33D printed protein bars
In a world where just about everything from shoes to skincare can be personalized on demand, British brand Nourished has found one area that could use a little help: protein bars. Founded by award-winning entrepreneur and registered nutritionist Mellisa Snover, Nourished offers a completely personalized protein bar experience by giving customers the ability to explore 400 combinations that start with a base flavor like apple, raspberry, chocolate sauce or salted caramel which is then coated with a layer of protein such as butterscotch crisp, espresso crunch or toasted hazelnuts. The entire bar is then coated in your choice of milk or white chocolate coating – all vegan, of course. The finished bar is low in sugar (less than 2.5 grams) and contains at least 18 grams of protein.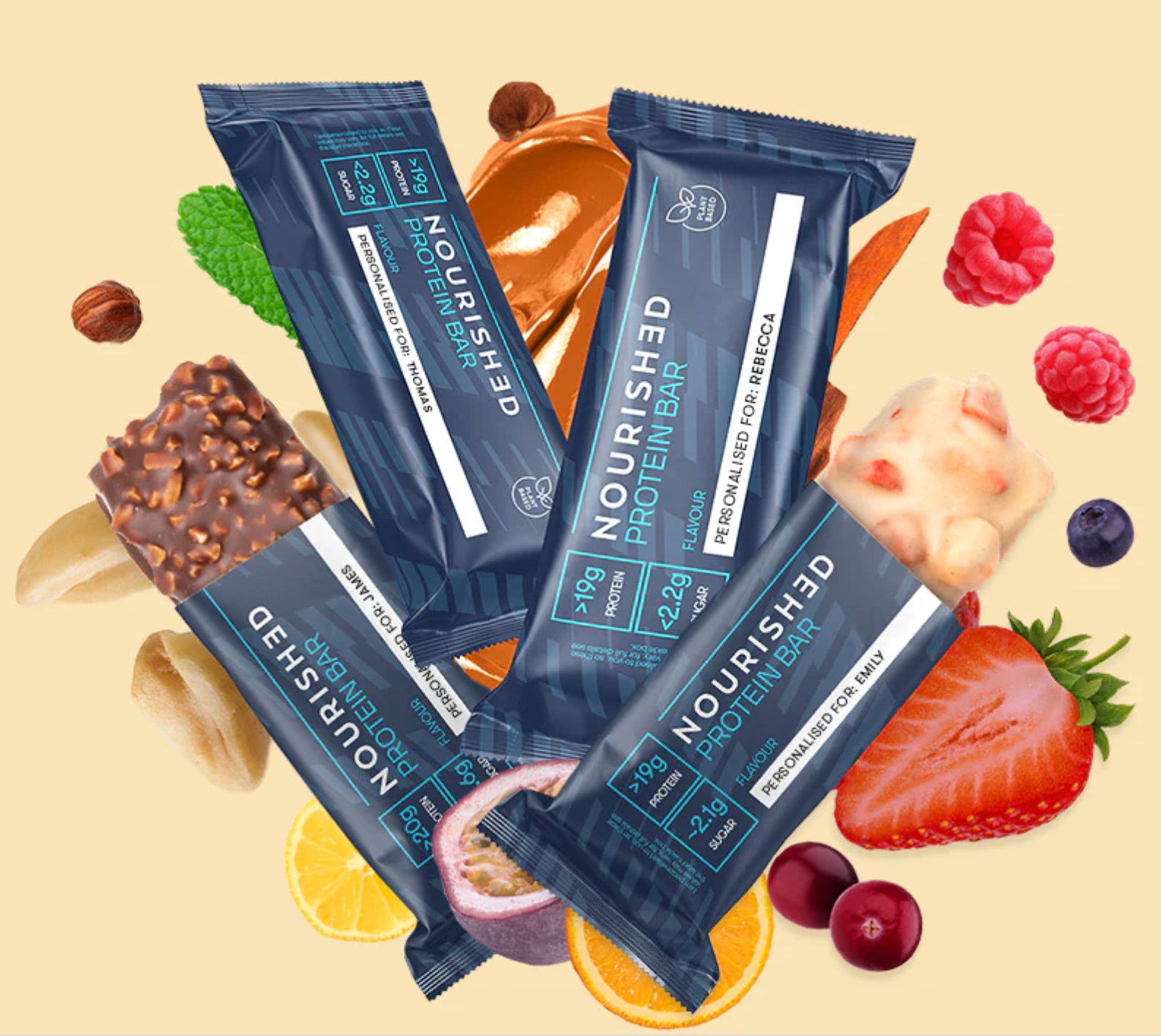 Nourished
This product launch comes after Nourished brought vegan gummy vitamins to market in custom layers and uses the same 3D printing technology. The brand launched in the UK in early 2020 and expanded to the US several months later. Its products are available through its website as a one-time purchase or at a discounted rate through a recurring subscription.
4PLNT Burger is growing in New York
Celebrity chef Spike Mendelsohn, a former Bravo's best chef— is moving forward with plans to open new locations of its vegan fast food chain PLNT Burger across New York. A collaboration between Mendelsohn and Seth Goldman (former Executive Chairman of Beyond Meat), the chain planted its roots in a Whole Foods Market in Silver Spring, MD in 2019 serving all the American comfort classics – burgers, chicken sandwiches, milkshakes and fries – but made vegan (and fabulous) with Mendelsohn's culinary expertise.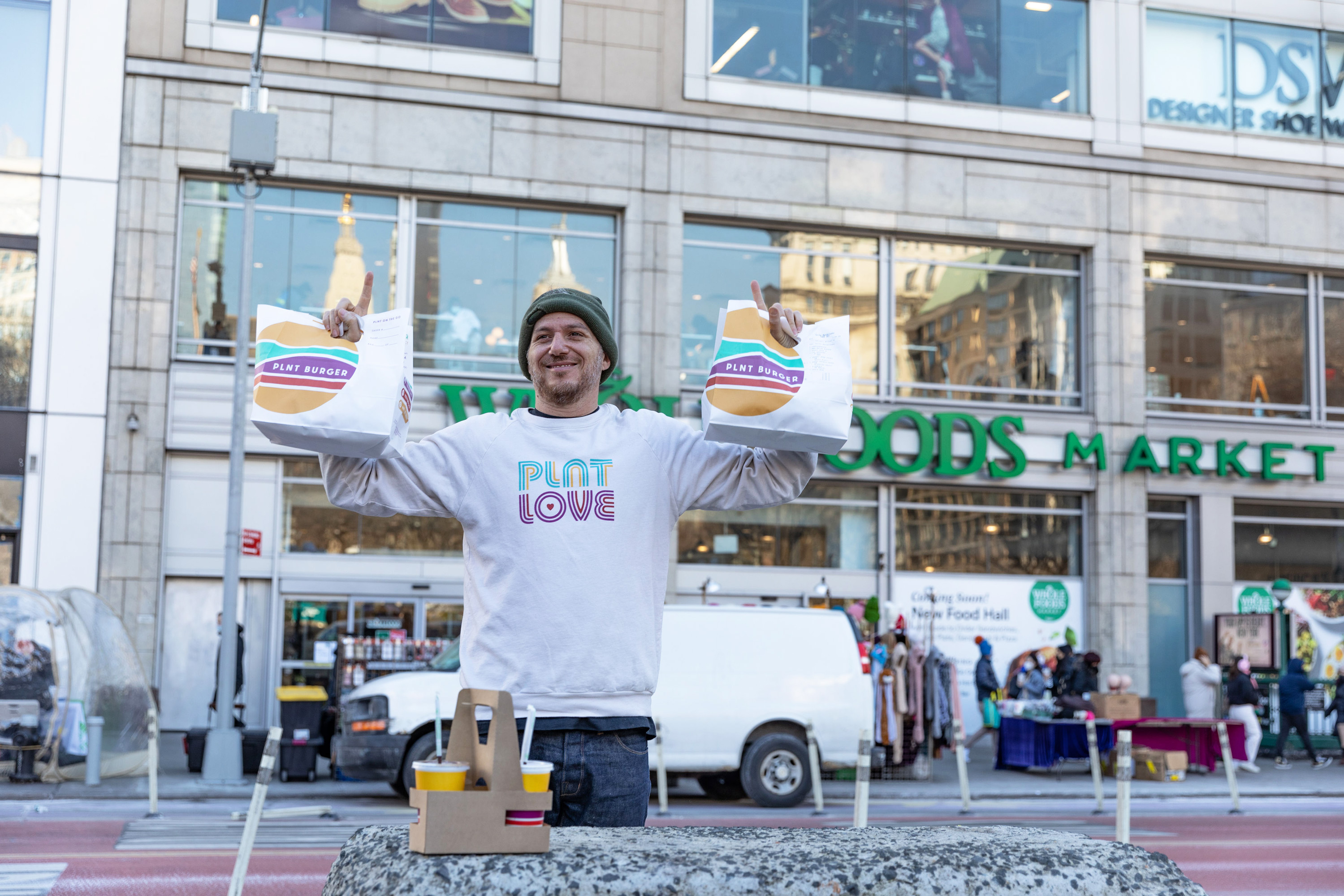 PLNT Burger
In January, PLNT entered New York with its first standalone location outside of Whole Foods in the Union Square neighborhood. This week, the vegan chain is opening its second New York outpost in Manhattan's Flatiron NoMad neighborhood, which will serve as its New York flagship. "This is our first store nationwide to be spacious enough to host events surrounding the plant-based movement while enjoying classic comfort foods that are delicious, nutritious and kind to the planet," said Mendelsohn in a statement.
The chain receives a warm welcome from city officials, including New York City Mayor Eric Adams, a strong supporter of the plant-based diet, who view the company as an asset to the neighborhood. "It's very exciting to see NoMad's continued evolution into a destination for a wide variety of plant-based dining options," said Flatiron Nomad President James Meetham. "We are thrilled to welcome Chef Spike and the PLNT Burger team to the neighborhood, and equally thrilled to have our residents, staff and visitors experience it at Broadway's NoMad Piazza."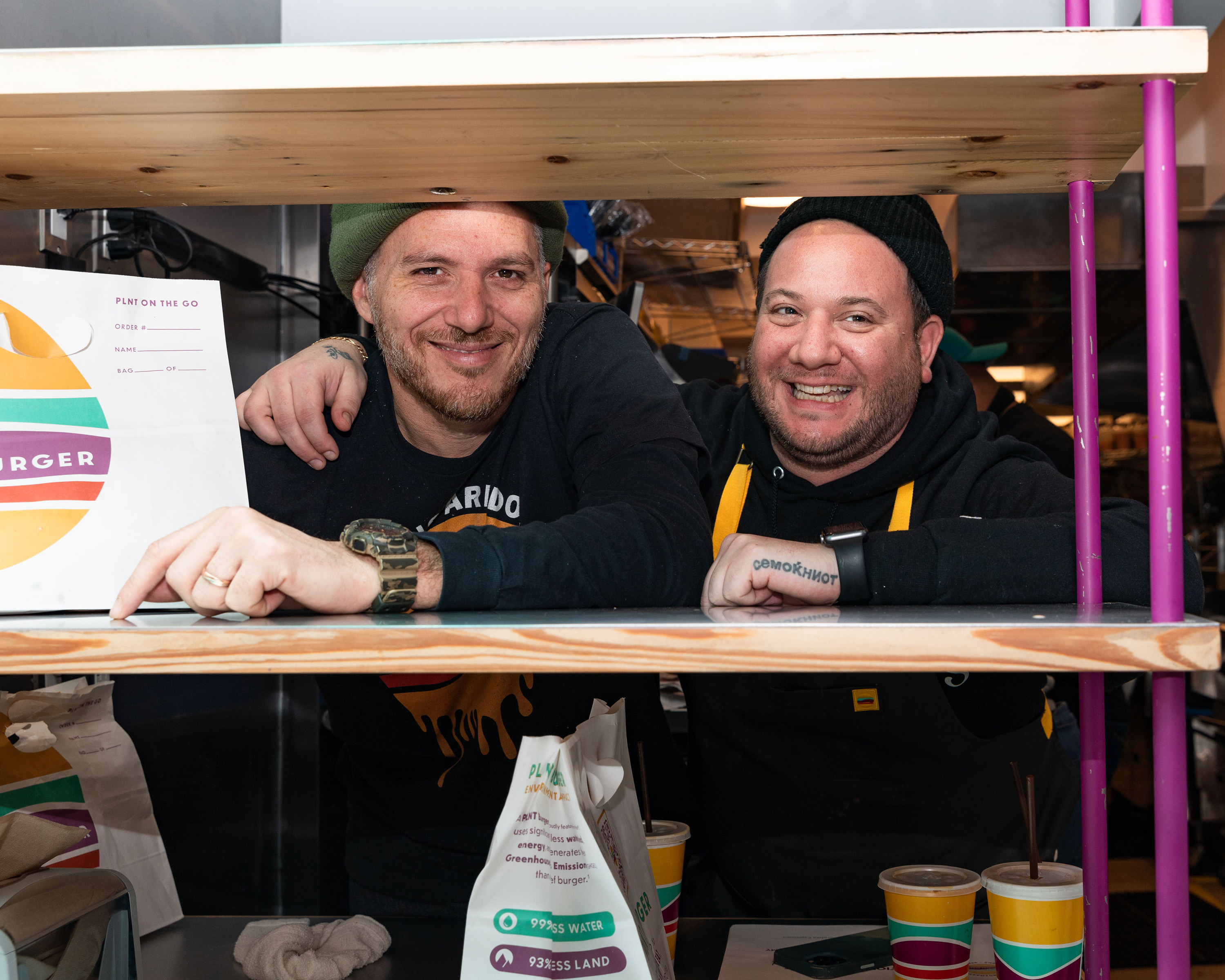 PLNT Burger
By 2023, PLNT aims to operate 30 sites and outposts in Bryant Park, and Williamsburg will be the next to open.
And if you're in town today looking for free food, Plantega, an initiative that greens bodegas across New York City, offers Daring Foods plant-based chicken-filled sandwiches and quesadillas. Head to the Plantega location inside American Choice Gourmet Deli (218 Broadway in Brooklyn) and tell them VegNews sent you (or, it's free, so get there before the stocks run out). are exhausted).
For the latest vegan news, read:
Did 'Celebs on Sandwiches' predict Lizzo's love of vegan plantain burgers?
How this startup is making vegan oysters in the shell to save the oceans
Why turkey burgers are successful
Happy Birthday VegNews! To celebrate, we're having a mega subscription sale, with amazing vegan prizes.
Happy Birthday VegNews! To celebrate, we're having a mega subscription sale, with amazing vegan prizes.