This week, international chain Pizza Hut added Beyond Italian Sausage Crumbles to select locations across Canada, its first vegan meat option in the country. The new vegan meat was created exclusively for Pizza Hut Canada in partnership with Beyond Meat and is featured on three new menu items: The Great Beyond (a specialty pizza topped with Beyond Italian Sausage Crumble, vegetable toppings that include red onions sliced ​​and banana peppers, and served on any Pizza Hut crust); Beyond Italian Sausage Alfredo Loaded Flatbread (a crispy flatbread topped with Beyond Italian Sausage Crumble, roasted red peppers, dairy-based alfredo sauce, and dairy-based mozzarella cheese); and Beyond Creamy Alfredo (a dairy-based pasta alfredo dish topped with Beyond Italian Sausage Crumble, onions, mushrooms, and mozzarella cheese).
"As Canadians continue to look for convenient ways to incorporate more plant-based protein into their lives, we are thrilled to partner with Beyond Meat, a leader in plant-based protein, to provide consumers with expanded choice on our menus. ", Devon Lawrence, Marketing Manager at Pizza Hut Canada, said. "The new Beyond Meat menu items taste amazing and deliver the iconic Pizza Hut flavor our fans know and love."
The new Beyond Meat options are available at Pizza Hut restaurants in the western GTA (Mississauga, Etobicoke, Milton and Oakville) and in Edmonton. To promote the new options, Pizza Hut is running a promotion through June 6 where customers can buy one pizza and get another (like The Great Beyond) for free by entering code 879 when checking out online.
Beyond Italian Sausage Crumbles are also available as a topping for any build-your-own pizza. Original Pan Crust, Thin 'N Crispy and Hand-Tossed crusts are plant-based and Pizza Hut's marinara sauce does not contain animal products. "We are thrilled to provide Canadians with increased access to delicious and satisfying plant-based protein as part of the latest expansion of our global partnership with Pizza Hut," said Hameed Jagani, Vice President of Global Strategic Partnerships at Beyond Meat. . "Adding Beyond Italian Sausage to local Pizza Hut menus allows consumers to continue eating the things they love, like pizza, without having to compromise on taste, health or sustainability."
Vegan at Pizza Hut
While the partnership marks the first time vegan meat has been available at Pizza Hut restaurants in Canada, it's not the first time the international pizza chain has offered vegan options. In the UK, Pizza Hut started flirting with vegan options in 2017 with the launch of Violife vegan cheese. The chain's UK branches now offer a dedicated vegan menu that includes meatless pepperoni pizza, Quorn chicken nuggets and dairy-free caramel cheesecake.
In 2019, Pizza Hut Australia launched an all-vegan menu that included pizzas topped with vegan cheese made by local brand Dairy Free Down Under in four options: Vegan Mediterranean, Vegan Deluxe, Vegan Cheese Lovers and Vegan Margherita. Pizza Hut's Australian locations also serve vegan chicken wings (which can be ordered with five vegan sauces); vegan cheese and garlic bread; and a vegan ice cream cone for dessert.
In the United States, Pizza Hut first tested vegan sausages made by MorningStar Farms' Incogmeato line at a location in Phoenix, AZ in 2019. The limited-time test included the plant-based sausage atop the Garden Specialty Pizza, which also included onions, mushrooms and banana peppers and could be ordered vegan omitting the cheese. Although this test ultimately did not result in a national expansion of vegan Incogmeato sausage, Pizza Hut became the first chain in its category in the United States to launch the vegan meat nationwide last year.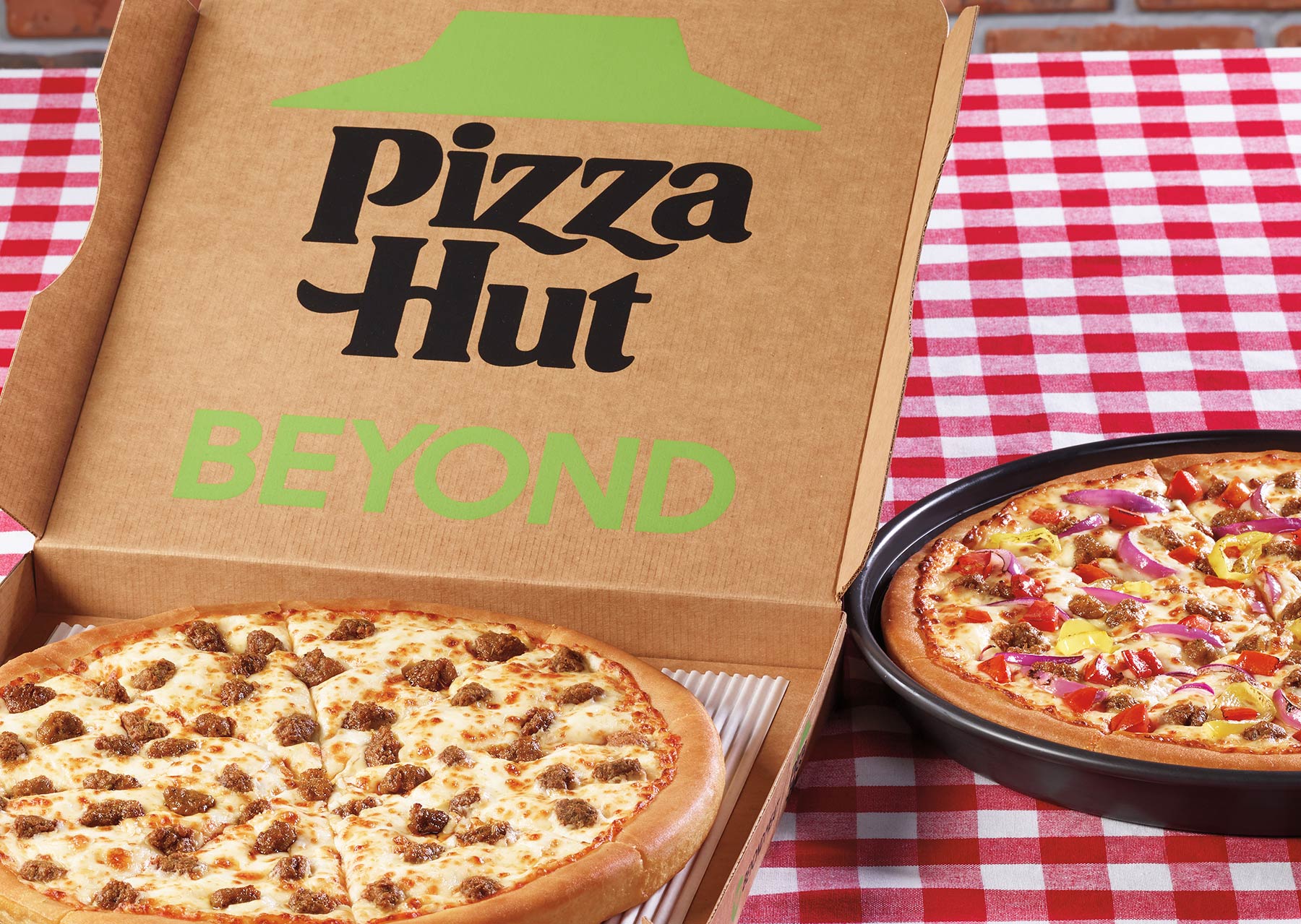 In November 2020, Pizza Hut partnered with Beyond Meat to launch two Beyond Pan Pizzas at all brick-and-mortar locations and participating Pizza Hut Express locations nationwide. The culinary teams at Pizza Hut and vegan brand Beyond Meat collaborated on options featuring the vegan meat brand's Italian sausage. The Beyond Italian Sausage Pizza is a classic (dairy) cheese pizza topped with Beyond Meat Italian Sausage crumbs, while The Great Beyond Pizza specialty (which is similar to the pizza now offered in Canada) includes dairy cheese, fresh vegetable toppings that include tomatoes, sliced ​​red onions and tangy banana peppers, plant-based Italian sausage, and is served on Pizza Hut's classic Original Pan crust.
While vegan cheese is available at many Pizza Hut locations internationally, the chain has yet to add a dairy-free cheese option to its US or Canadian locations.
Subscribe to VegNews before February 20 and receive our Winter Wellness issue for FREE!
Subscribe
Subscribe to VegNews before February 20 and receive our Winter Wellness issue for FREE!
Subscribe