It seems like every week in the world of vegan food news is more exciting than the last and this week is no exception. Peet's is once again innovating its menu, this time with vegan drinks inspired by boba. Tofu giant Nasoya is branching out into vegan steak, perfect for Korean barbecue dishes. Beyond Burger joins Impossible on the menu at Slutty Vegan. And the pea milk brand Ripple is branching out into oats. Read on to find out more.
1Peet's innovates coffee with boba-inspired drinks
When it comes to vegan coffee chains, Peet's Coffee tops the list. Not only does it offer a variety of vegan milks, but Peet's stole our hearts when it launched the Plant-Based Sandwich, a vegan sandwich made with Beyond Meat Breakfast sausage patty, JUST bent eggs made with mung beans and dairy-free melted cheddar. cheese, served on a thin bagel.
Peet's Cafe
This week, Peet's got even more enticing with a fun new menu that further sets it apart from other coffee chains. The new plant-based brown sugar jelly is a boba-inspired drink addition that customers can order in any drink. Peet's will highlight the new chewable supplement as part of two permanent menu items: Brown Sugar Cold Brew Oat Latte and Iced Brown Sugar Matcha Oat Latte. Plant-based jelly is also part of the refreshing summer offerings: Citrus Green Tea Shaker with Brown Sugar Jelly, Strawberry Lemon Tea Shaker with Brown Sugar Jelly, and Brown Sugar Oat Latte (which can be ordered hot or iced).
"Jelly drinks are a refreshing treat that can be imagined and enjoyed with endless combinations of flavors and colors, especially during the summer," said Patrick Main, Senior Beverage Innovator at Peet, in a statement. "At Peet's, our Brown Sugar Jelly is 100% plant-based and can be added to any cold beverage for refreshing sweetness, irresistible texture, and luscious layers that look and taste delicious."
2Ripple gets into oat milk
Ripple Foods entered the vegan scene in 2016 with the launch of Pea Protein Milk at Target and Whole Foods. Since then, the brand has extended its expertise in pea protein to various categories, including yogurts and ice cream. Last year, the brand raised $60 million in Series E funding to explore other pea-sibilities in categories like vegan cheese and soft cream.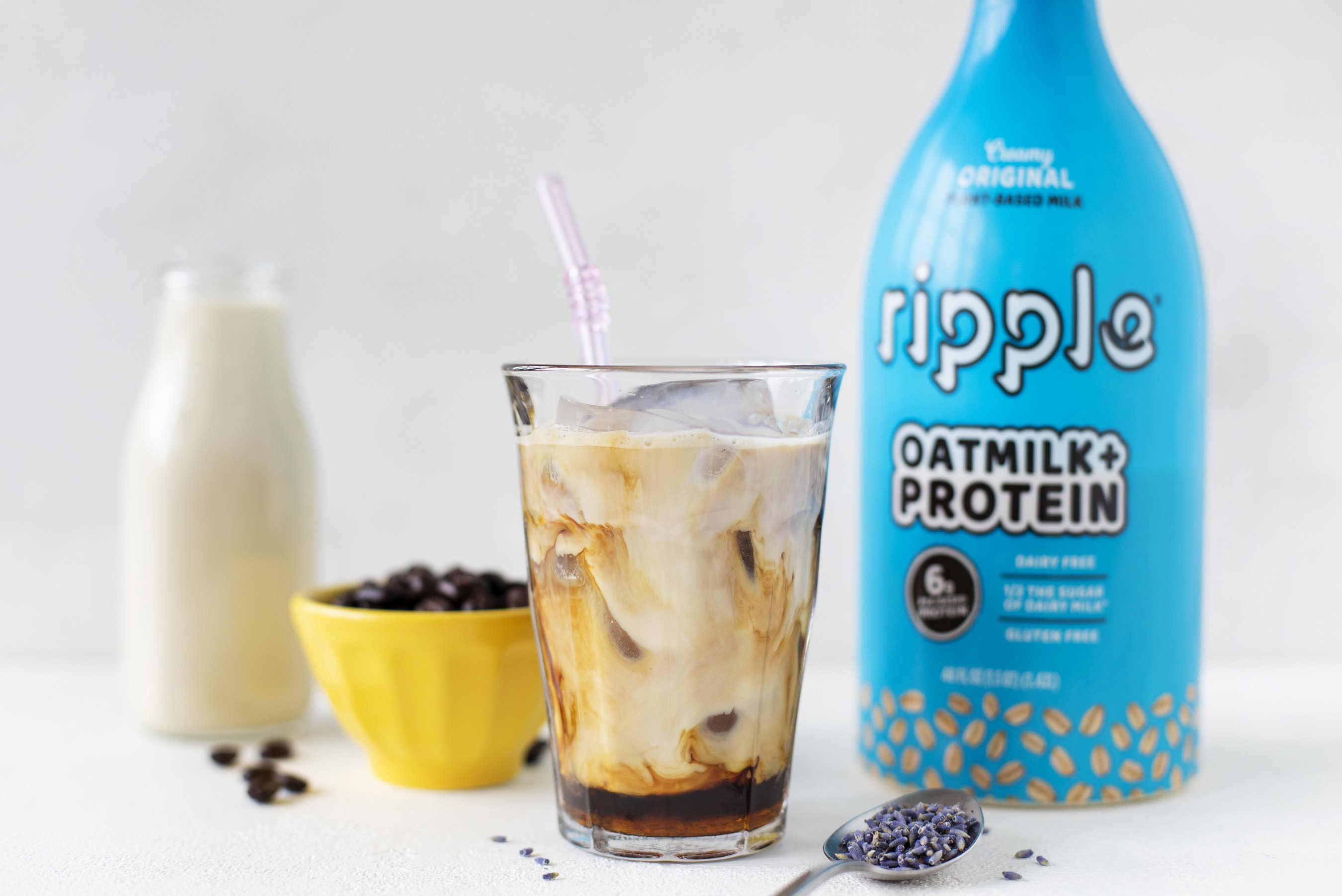 Ripple
Ripple is now adding oat milk to the mix with the launch of Oatmilk + Protein, a drink that contains creamy oat milk and pea protein. Developed to be nutrient-dense, the new product offers six grams of plant-based protein per serving (three times more than oat milk alone). Compared to cow's milk, Ripple's Oat Milk + Protein contains 50% less sugar and 50% more calcium.
"Many consumers love the taste and texture of oat milk, but the reality is that they are disappointed with the nutritional profile, especially the lack of protein," Ripple CEO Laura Flanagan said in a statement. "Ripple is changing the game so those who love oat milk can now really love it, because Ripple's version of oat milk provides three times the protein of regular oat milk, along with the good the creamy taste and texture people have come to expect. We've taken the power of protein to oat milk, to take it to the next level – that's how Ripple makes oat milk.
Ripple's new protein-rich oat milk is now available at Whole Foods Market, Jewel and Albertsons' southern division with additional stores including Target and Sprouts Farmers Market expected to stock it later this summer.
3Beyond Burger is coming to Slutty Vegan
This week, the Beyond Burger became available at the hugely popular Atlanta-based Slutty Vegan chain. Since its debut in 2018, Slutty Vegan has been serving Impossible Burger-based creations that are packed with toppings and slathered in a secret "Slut Sauce."
Now the chain is adding the Beyond Burger to give customers a soy-free option, which can be ordered as part of any build. This means fan favorites such as One Night Stand and Fussy Hussy can be ordered with an Impossible or Beyond Burger, giving Slutty Vegan fans – who include Taraji P. Henson, Usher, Shaquille O'Neal and countless others – even more plant-based choices.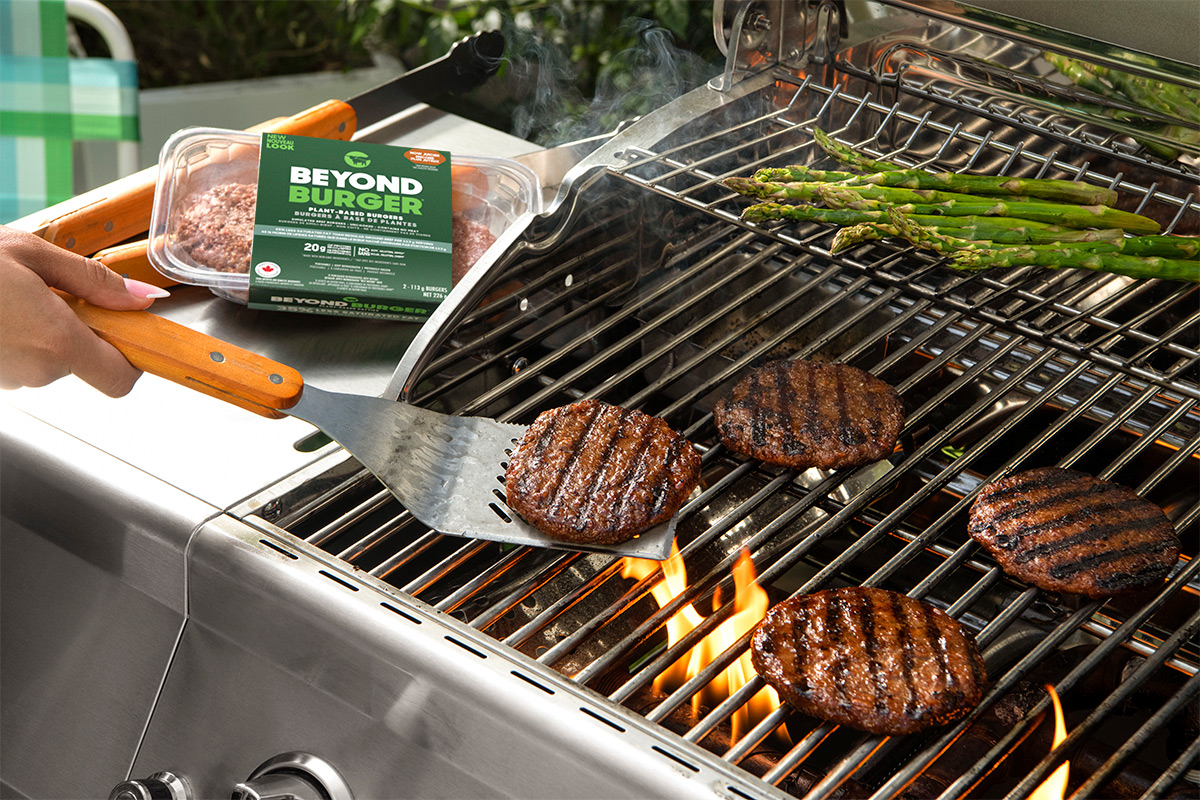 Julia Stotz
The new and improved Beyond Burger and Beyond Beef, which the company launched in the United States last year, is also making its way to Canadian retailers this week just in time for the summer grilling season.
4Nasoya's Vegan Steak Hits Stores
Tofu giant Nasoya now produces vegan steak under its Plantspired line. Created as a convenient protein option, the new Plantspired Steak is perfect for recreating vegan versions of Korean BBQ favorites. The steak strips are made from soy protein with a savory sauce that has a sweet, salty, and smoky bulgogi flavor.
To showcase the versatility of its new steak, Nasoya has teamed up with celebrity chef Dale Talde, who has created recipes for Wok Tossed Sesame Soy Moo Shu Pancakes and Plantspired Steak Skewers with Strawberry Gochujang.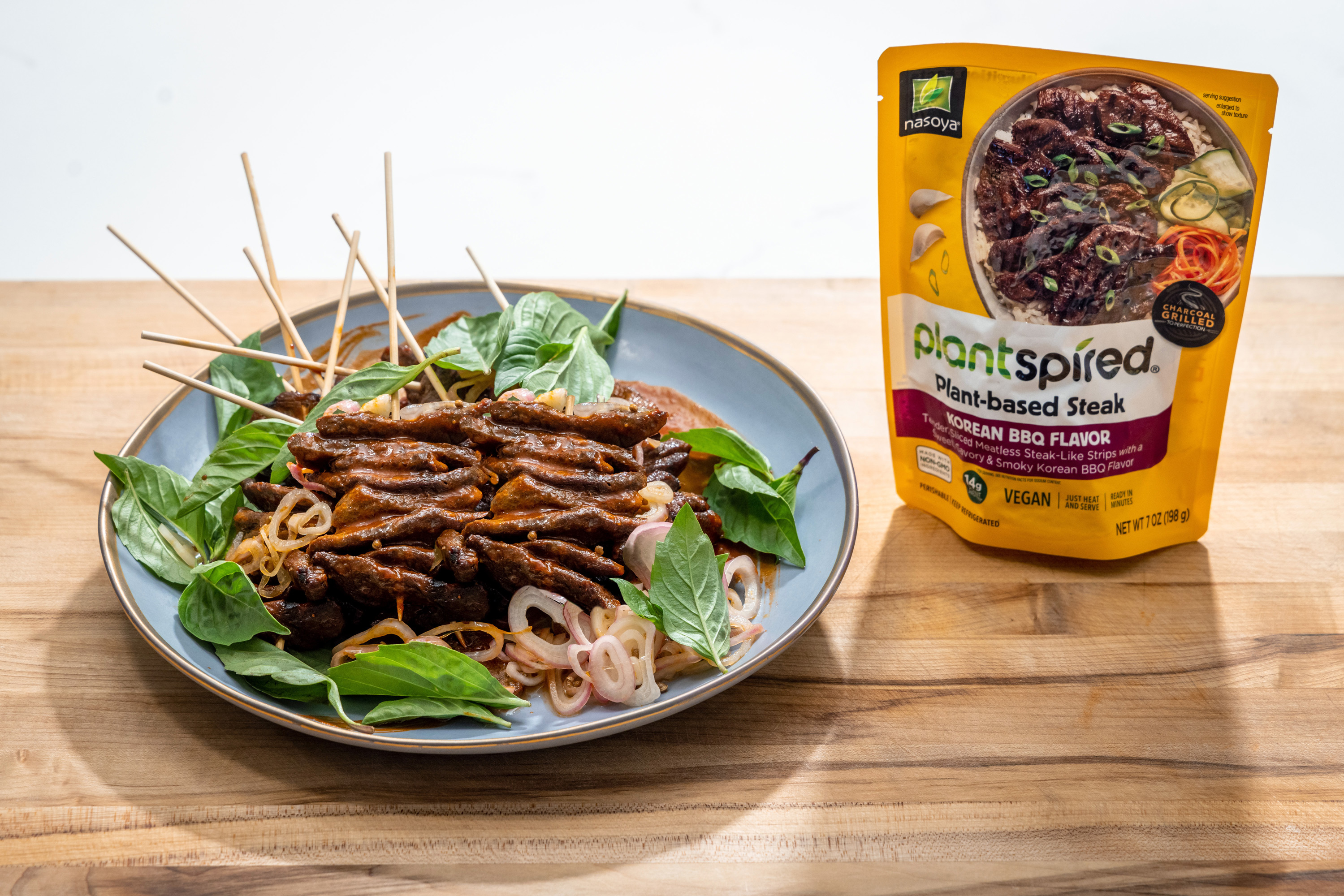 Nasoya
Plantspired Steak has debuted on the menu of the 200-location Waba Grill chain where it's a third protein option, alongside chicken and animal-based steak, and can be ordered in plates and bowls. . This week, Plantspired Steak made its retail debut at Albertsons, Safeway, Vons, Pavilions, Sprouts, Giant Eagle, Big Y and more, giving home cooks the opportunity to experience plant-based steak .
5Veggie Grill's menu expands with Más Veggies
During uncertain times at the height of the pandemic, the beloved vegan chain Veggie Grill has been experimenting with various concepts to keep your take-out food orders interesting. Launched in early 2021, Más Veggies Taqueria was a virtual Mexican restaurant concept that operated out of Veggie Grill locations and offered vegan meals for delivery only through popular delivery platforms, including DoorDash, Postmates, Uber Eats and Grubhub. The menu was filled with dishes such as Crispy Poblano Chickin', Shredded Jackfruit Chipotle Carnitas, Cauliflower Asada and Savory Tex-Mex Taco Meat in the form of tacos, burritos, nachos and bowls.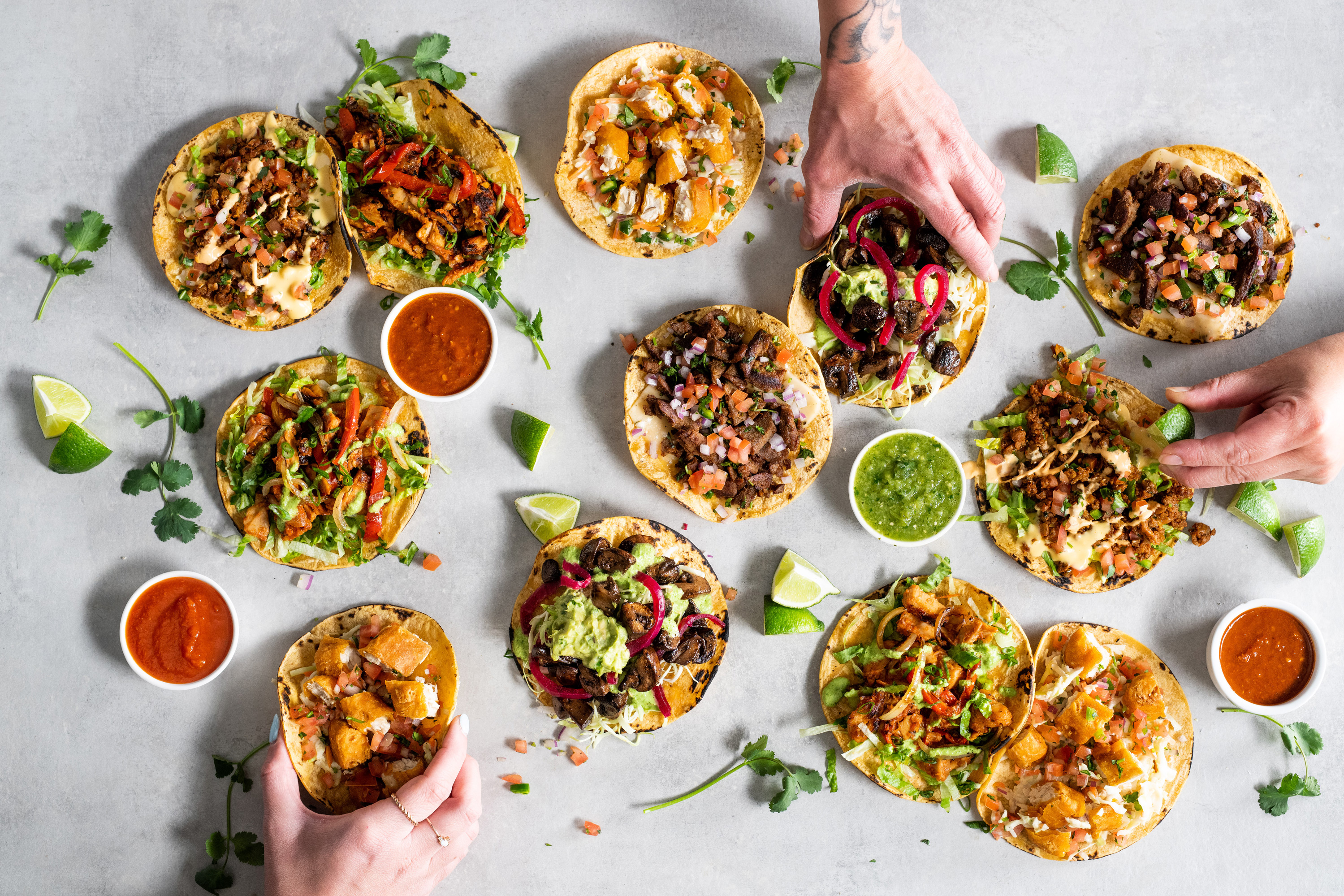 More vegetables
This week, Veggie Grill is fully integrating the concept into its regular menu. That means new plant-based protein favorites like Crispy Baja Fish, Chickin' Tinga or Smokey Mushroom can be ordered as part of tacos, burritos or nachos at all 30 Veggie Grill locations nationwide.
The other concept born out of the Veggie Grill pandemic, Stand-Up Burgers, is also making headway. On June 17, the new location for this vegan burger spinoff will open in Culver City, Calif., as the chain's first Southern California outpost. "We are thrilled to expand Stand-Up Burgers and bring this concept to our hometown of Los Angeles," Veggie Grill's new CEO Jay Gentile said in a statement. "We're confident Angelenos will identify with our mission to inspire the world to eat less meat while revolutionizing traditional comfort foods to be deliciously vegan."
To celebrate the opening, Stand-Up Burgers is hosting a plant-based party filled with goodies every day from June 16 through June 21. In addition to the new Culver City location, the burger spin-off will open its first New York location later this summer and three additional outposts in the Los Angeles area by the end of the year.
For the latest vegan news, read:
Drinking milk increases prostate cancer risk in men by 60%
This Shell gas station now has a 24/7 vegan convenience store inside
Odd Burger is bringing its vegan 'Big Mac' to nearly 100 locations

JUST LAUNCHED! Get our 10 Easy Vegan Summer Meals recipe book as a FREE instant download.
Get the guide
JUST LAUNCHED! Get our 10 Easy Vegan Summer Meals recipe book as a FREE instant download.
Get the guide