Lilly Iaschelcic, Belarusian / Russian author, veterinarian motivational speaker, future osteopath, model and influencer, brought an innovative take on cruelty-free vegan food and lifestyle through her knowledgeable book "The Vegan Diet ".
Lilly thinks the vegan lifestyle can be more fun and convenient if a person understands and knows a good plan. The book we know as "The Vegan Diet" is as simple and straightforward as the name, because the author wants to share practical and amazing information for everyone.
There is always room for improvement, and Lilly Iaschelcic has tried in her book to make vegan consumption a mantra of a balanced lifestyle. Many readers have said that they never thought vegan diets and meals could be so fun and filling at the same time.
"I started the project to write this book as a responsibility to the community, as plant-based diet plans are usually very unattractive. It was high time someone revealed the true beauty of cruelty-free vegan food and changed the perspective of people who were hesitant to embrace this lifestyle. Added by Lilly Iaschelcic, author of The Vegan Diet. "The real challenge was to provide the right facts and the right eating plans that I think personally brought me closer to the vegan diet. It was a great pleasure to share every detail and strategy that people need to adopt this health conscious diet. "
According to veganism themes, life can be a gesture of goodwill towards nature, and a positive cruelty-free way of life can transform emotional regulation. Lilly Iaschelcic claims that every day becomes a new beginning for her when food intake is based on all organic vegan ingredients.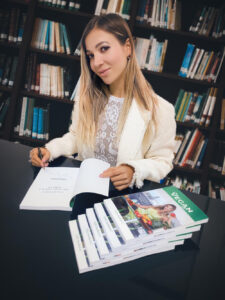 Lilly Iaschelcic is a dynamic person who makes sure that everything she does is with passion, like writing and pursuing many successful careers at the same time. She also has a degree in veterinary science which adds to her gentleness towards animals and her dedication to vegan food.
Iaschelcic is always on the move to share vegan diet plans and motivate his fans to embrace a better and flourishing future that accepts nature. Cruelty-free living will maintain the balance of life on planet Earth, and we will be able to preserve nature for the community and generations to come.
As an enchanting blogger and speaker, Lilly is involved in various charitable projects as a renowned Global Ambassador of the Global Charity Kidney Foundation.
The book published to enhance the beauty of life, "The Vegan Diet", is an effort by a famous influencer to greet the future as a guilt-free generation. She strives to make veganism a strategy to save our world as it's supposed to be preserved.
Order the life-changing book known as "The Vegan Diet" here.