It seems like every week in the world of vegan food news is more exciting than the last and this week is no exception. New vegan crab cakes have arrived from both AKUA and Mind Blown. Sweet Earth also offers more options for consumers looking for frozen entrees with its new bowls in Korean-style BBQ and Cacio e Pepe flavors. And Laird Superfoods, founded by big wave surfer Laird Hamilton, is getting into vegan snacks for the first time. Read on to find out more.
1New Frozen Meals from Sweet Earth
Vegetarian brand Sweet Earth is known for its chilled products such as the Awesome Burger, but has recently expanded its frozen meals with some exciting vegan options. The brand's new gluten-free Cacio e Pepe starter bowl is inspired by the Roman dish and features chickpea-based noodles covered in vegan cashew-based parmesan cheese and black peppercorn sauce with added vegetables.
sweet earth
Its new barbecue-style Korean Chik'n Entree Bowl takes the spicy and sweet flavors of Korean barbecue with a bowl filled with chicken and vegan vegetables, including edamame, carrots, snow peas and sesame seeds on a mixture of cauliflower and brown rice.
Sweet Earth developed the vegan entree in response to market research that showed 75% of consumers are looking for more frozen foods. The company has chosen these flavors in particular to offer a vegan version of dishes popular with American consumers.
"At Sweet Earth, we are always striving to provide plant-based versions of the unique flavors and dishes that consumers love," Jennifer Barnes, vice president and general manager of Sweet Earth Foods, said in a statement. "As schedules resume, we want to make sure we offer delicious, carefully prepared vegetarian options that people can count on to satisfy their taste buds and fuel their busy lifestyles."
Both frozen meals can be found at select Target locations for a suggested retail price of $4.99 each and the Korean BBQ meal is also available at other retailers including Meijer, HEB and Giant.
2Vegan crab cakes cause a stir
Plant-based brand AKUA cuts out the middleman when it comes to consuming all the goodness of the oceans with its new Krab Cake, a vegan crab cake made from ocean-grown kelp. Not only is this crab cake gentler on shellfish, but its main ingredient is a big win for the environment as zero-input cultivation requires no fresh water, no fertilizer, no food, and no barren land to grow.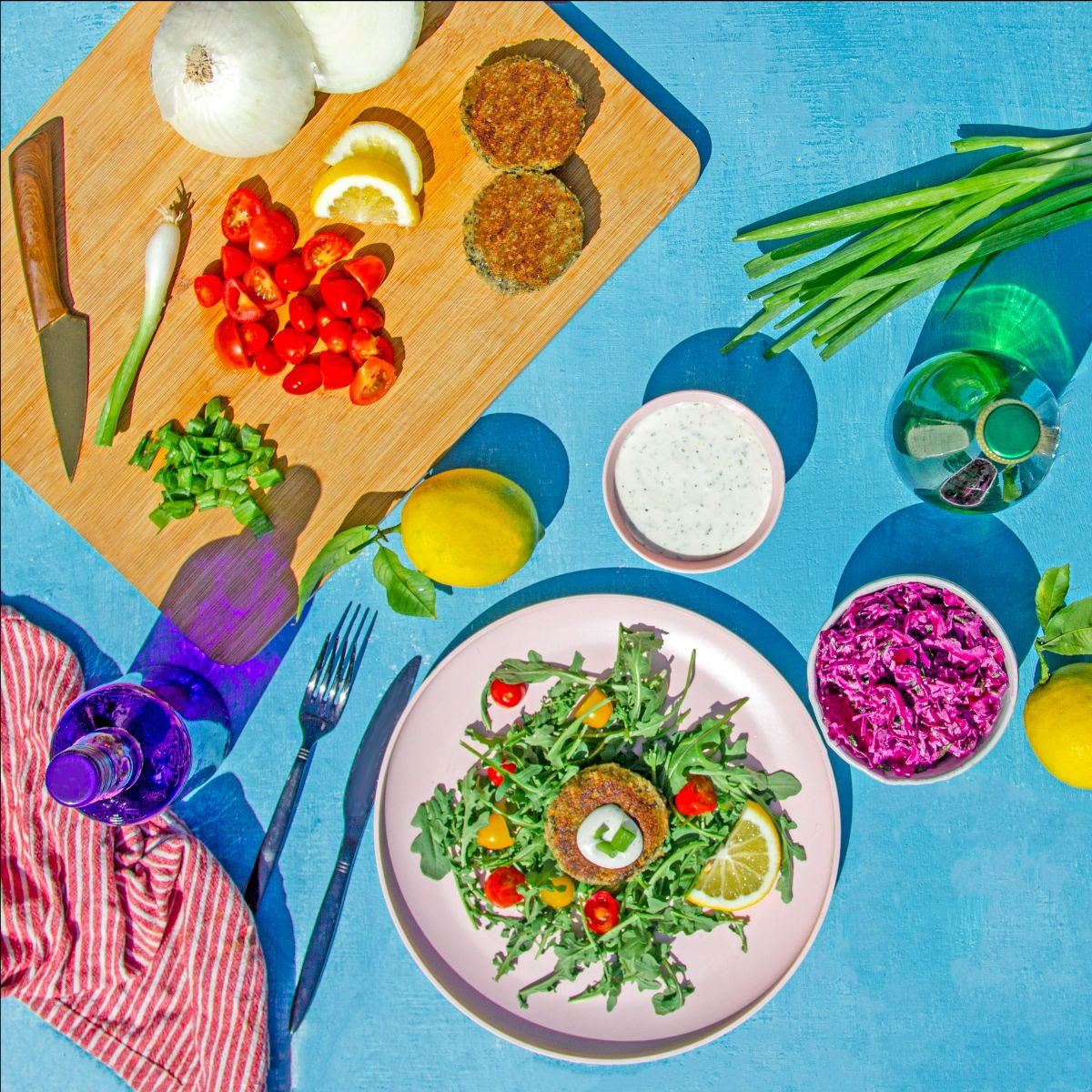 AKUA
Not only are Krab Cakes packed with vitamins and fiber, but the kelp used by the Brooklyn-based company also filters carbon and nitrogen from the water and creates new jobs for coastal communities. AKUA's innovative vegan crab cakes and vegan kelp burgers are available on the company's website.
Craving more crab cakes? You're in luck because The Plant Based Seafood Co. just launched its vegan crab cakes at Sprouts Farmers Market. Supported by Excellent chef Judge Tom Colicchio, this woman-owned business is a backbone of The Van Cleve Seafood Co., which has been in the seafood business for 20 years. The new crab cakes are made from a vegetable protein base seasoned with classic crab cake flavors such as celery and onion before being crusted in panko breadcrumbs.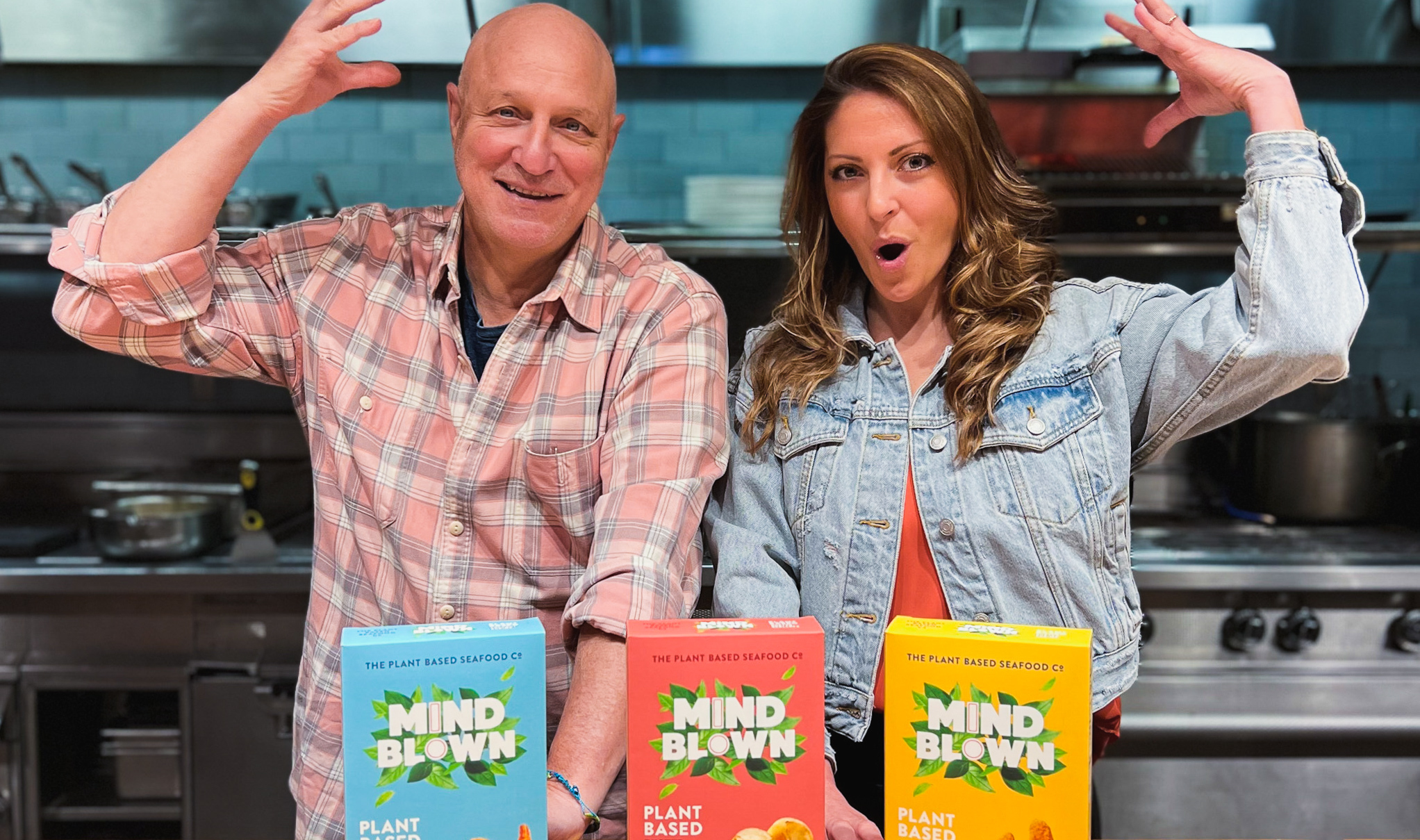 The Plant Based Seafood Co.
"For decades, we've been creating traditional crab cakes in small batches, by hand, through our company The Van Cleve Seafood Co. It's one of our best-selling items," the co-founder said. Monica Talbert in a statement. "Recently, we saw a need for plant-based seafood and created Mind Blown by The Plant Based Seafood Co. We wanted to make a plant-based version of our Crab Cakes, and knew they should be the same to the original versions in taste and texture.We are proud to say that in any application of a traditional crab cake, the Mind Blown versions do just as well, if not better.
Mind Blown's new vegan crab cakes are also available for bulk purchase through VEDGEco (known as "Vegan Costco").
3Wicked Vegan Milk
Vegan food brand Wicked Kitchen debuted in the UK in 2018 through supermarket giant Tesco, where its variety of convenience foods, from ready meals to whole cakes and shelf-stable staples, was a huge hit with the Brits.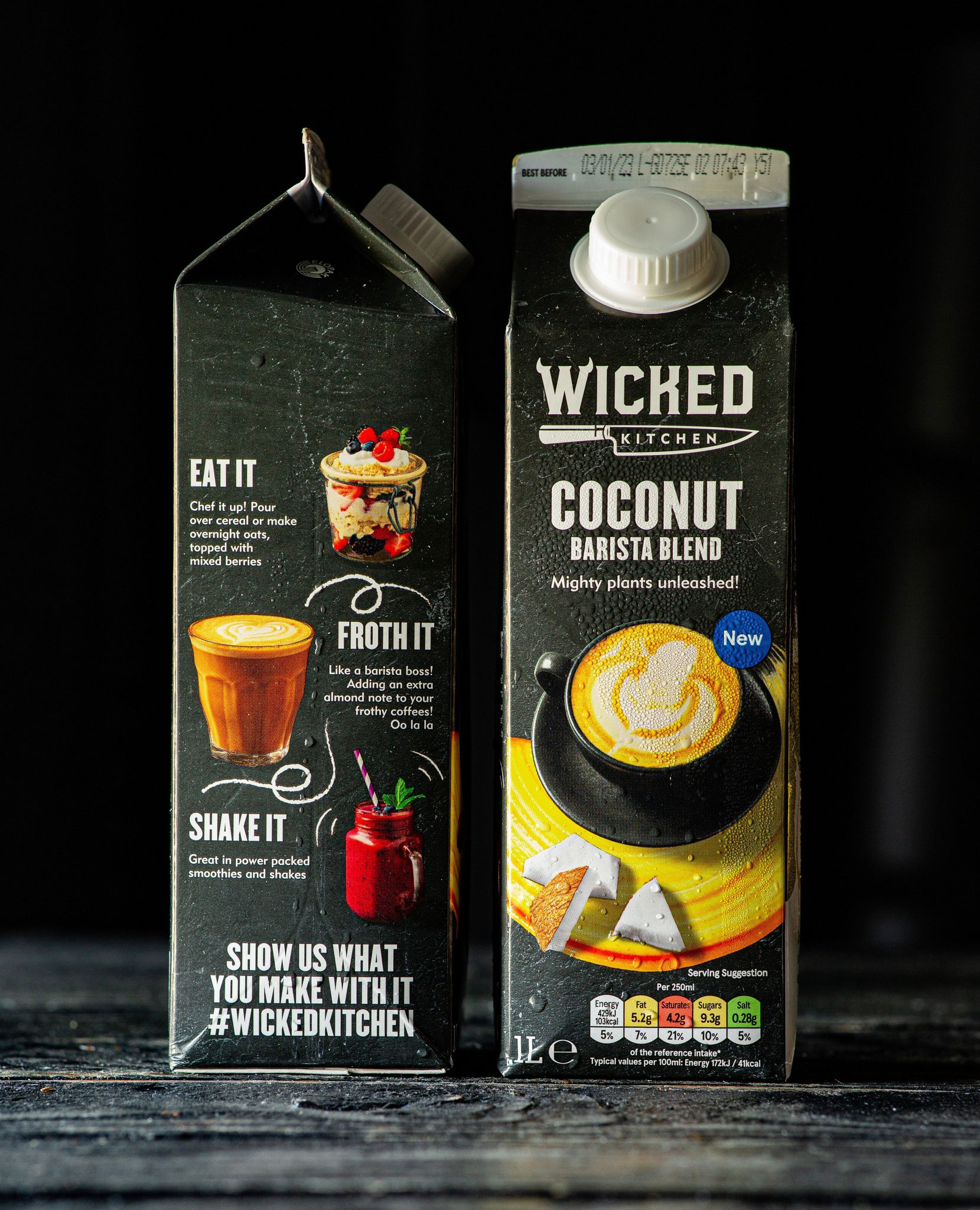 wicked kitchen
Now, Wicked Kitchen is considering a whole new, yet totally familiar category: vegan milk. The brand's soy, oat, coconut and almond milks arrive in Tesco stores this week and are all fortified with potassium and vitamins B, B12 and D.
Founded by New England-born vegan chef brothers Chad and Derek Sarno, the brand began its US expansion earlier this year with new offerings, including a one-of-a-kind line of vegan ice cream made from lupini beans. . In the United States, Wicked Kitchen products are available at Kroger and Kroger stores.
4Vegan protein bars with adaptogens
When pro surfer Laird Hamilton launches a vegan protein bar, we listen. Hamilton's Laird Superfood brand is entering the plant-based snack category for the first time this week with its line of Laird Superfood Plant-Based Protein Bars with Adaptogens in four flavors: Peanut Butter Chocolate Chip, Lemon and almond, peanut butter and mint chocolate. .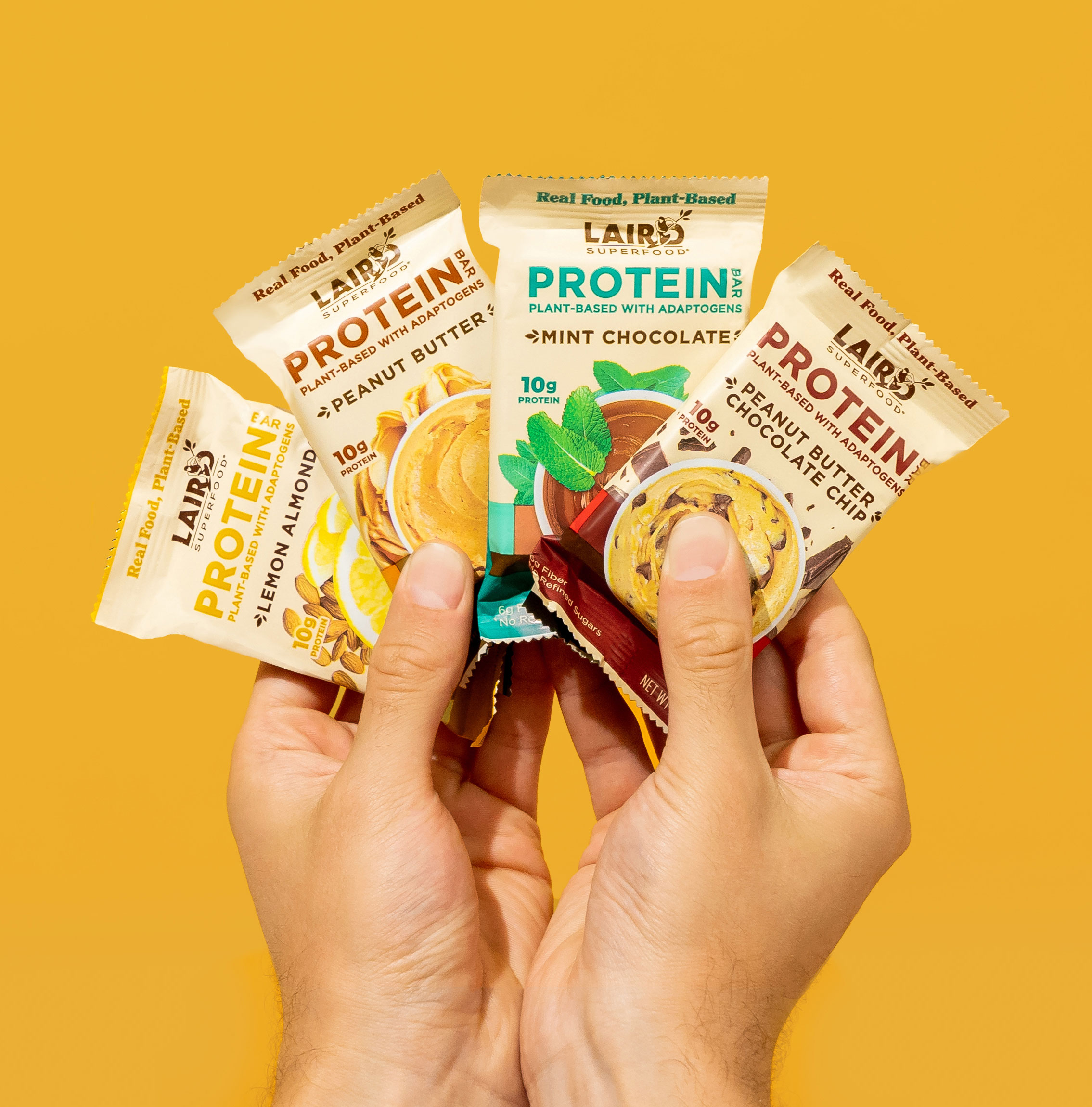 Superfood Laird
While the brand is known for its superfood coffees, creamers and blends, the new snack bars are designed to be loaded with protein from peas, hemp seeds and pumpkin seeds. They also contain a dash of adaptogens from chaga and lion's mane extracts for added benefits.
"Laird Superfood has been leading the functional food category for years, offering functional coffee blends, award-winning superfood creamers, drink mixes and supplements. Now, with the growing number of consumers interested in plant-based snacks made with real food ingredients tailored to their specific diet, we've created a convenient high-protein snack that will fuel them through every part of the day." , Jason Vieth, president and CEO of Laird Superfood, said in a statement. "In keeping with our belief that delicious foods should always nourish, fuel and help you perform at your best, this isn't your average protein bar, it's great-tasting functional fuel available in the palm of your hand. "
For the latest vegan news, read:
Why this entrepreneur went from raising pigs to making vegan bacon
How this vegan bakery rose above anti-LGBTQ hate crimes
Brazilian vegan meat giant takes over LA restaurants for 4 weeks
Happy Birthday VegNews! To celebrate, we're having a mega subscription sale, with amazing vegan prizes.
Happy Birthday VegNews! To celebrate, we're having a mega subscription sale, with amazing vegan prizes.