It seems like every week in the world of vegan food news is more exciting than the last and this week is no exception. Impossible Burgers has just joined Applebee's national menu, making it infinitely easier for plant eaters to have a great meal. Spring is here and Peet's is celebrating with new plant-based options. And this year's Expo West, a massive trade show in Anaheim, California, is full of new vegan products. Read on to find out more.
1 Applebee's adds Impossible Burger to its national menu
The popularity of plant-based meat has spread to every corner of the culinary world, from classic American restaurants and fast-food chains to small-town cafes. This week, we found out that Applebee got in on the action by adding the Impossible Cheeseburger to its nationwide menu.
Designed for "those who crave meat," Applebee's Impossible Cheeseburger includes a plant-based Impossible Burger patty, two slices of dairy cheese (can be omitted), lettuce, tomato, pickles and onions , and is served with fries. This burger is built on a brioche bun, vegan according to Applebee's.
Applebee dipped his toe into plant-based burgers in 2018 when he added the Impossible Burger to select locations. "We proudly launched the Impossible Cheeseburger nationwide last month, as we are always looking for ways to improve our menu and provide more options for customers looking for variety," said Joel Yashinsky, chief marketing officer at Applebee's, to VegNews. "Plant-based meat options are becoming a staple on every menu, and we want everyone to have delicious options when they join us at Applebee's."
The national debut of The Impossible Burger is a big improvement on Applebee's menu – previously, eaters looking for plant-based options were mostly relegated to the sides. At least the chain has a practical side vegan guide to help navigate thin pickins.
Peet's Cafe
2 Peet's welcomes spring with a new plant-based menu
Peet's Coffee celebrates spring with a seasonal menu that fully embraces plant-based foods and beverages with five offerings. In the drinks department, Peet's highlights the smoothness of oat and almond milks with three creations: Hazelnut Oat Latte, Vanilla Almond Latte and Cold Brew with Vanilla Oat Foam. Peetniks (Members of the Rewards Channel) have exclusive access to a fourth vegan drink: Hazelnut Cold Brew Oat Latte which can be ordered hot or cold.
As for the new bites, Peet's adds the Mediterranean Flatbread, a wrap with JUST Egg and Violife vegan smoked provolone cheese served on a savory mix of pesto, kale, tomatoes and peppers in a crispy lavash bun.
"Plant-based foods are not alternatives or substitutes at Peet's Coffee," Lori Fulmer, senior manager of food R&D at Peet's Coffee, said in a statement. "At a time when most consumers are fortunate to find a plant-based option in restaurants, Peet's takes our commitment to the next level with a menu that showcases high-quality, vegan ingredients that taste delicious and great flavor."
Rounding out Peet's spring menu is the all-plant-based sandwich featuring a Beyond Meat Breakfast sausage patty, a JUST folded egg made with mung bean, dairy-free melted cheddar cheese and is served on a thin bagel. Launching as a limited-time item in Spring 2021, the vegan sandwich has already become Peet's second best-selling hot breakfast item. For that reason, and because it's so tasty, Peet's is adding the all-vegetable sandwich to its permanent menu.

Loma Linda
3 Vegan chicken… canned?
From KFC to Panda Express to AMC and beyond (or impossible?), vegan chicken is chuckling everywhere. Store shelves are no different with plant-based poultry options in every aisle, from chicken from Daring Foods in the freezer to Mindful Chik'n from Sweet Earth in the fridge. A place where the vegan chicken has yet to spread its wings sits in the center of the store…until now.
The Californian company Atlantic Natural Foods (ANF) is marketing a new product from its Loma Linda brand: canned vegan chicken. Why a can? All Loma Linda products are shelf stable to maximize durability, as no energy-intensive refrigeration is required for storage and shipping. According to Kelly Krause, executive vice president and chief innovation officer at ANF, putting vegan chicken in a box also has pandemic protection benefits.
"The collapse of the global supply chain, which began more than two years ago, has limited food creation and impacted go-to-market strategies that have changed habits forever. buying," Krause said in a statement. "Alternatives to support our traditional food supply are needed to provide more sustainable nutritional options globally, so we are excited to bring our Chik'n to market quickly to support these efforts. With chicken being one of the most consumed meats in the world, this shelf-stable protein is the perfect addition to your pantry, available at an affordable price that fits any lifestyle.
The new canned vegan chicken hits store shelves in three flavors: Chik'n in Broth (packaged in a neutral vegetable broth); Chik'n BBQ (packed in a spicy barbecue sauce); and Chik'n Buffalo (wrapped in a spicy buffalo sauce).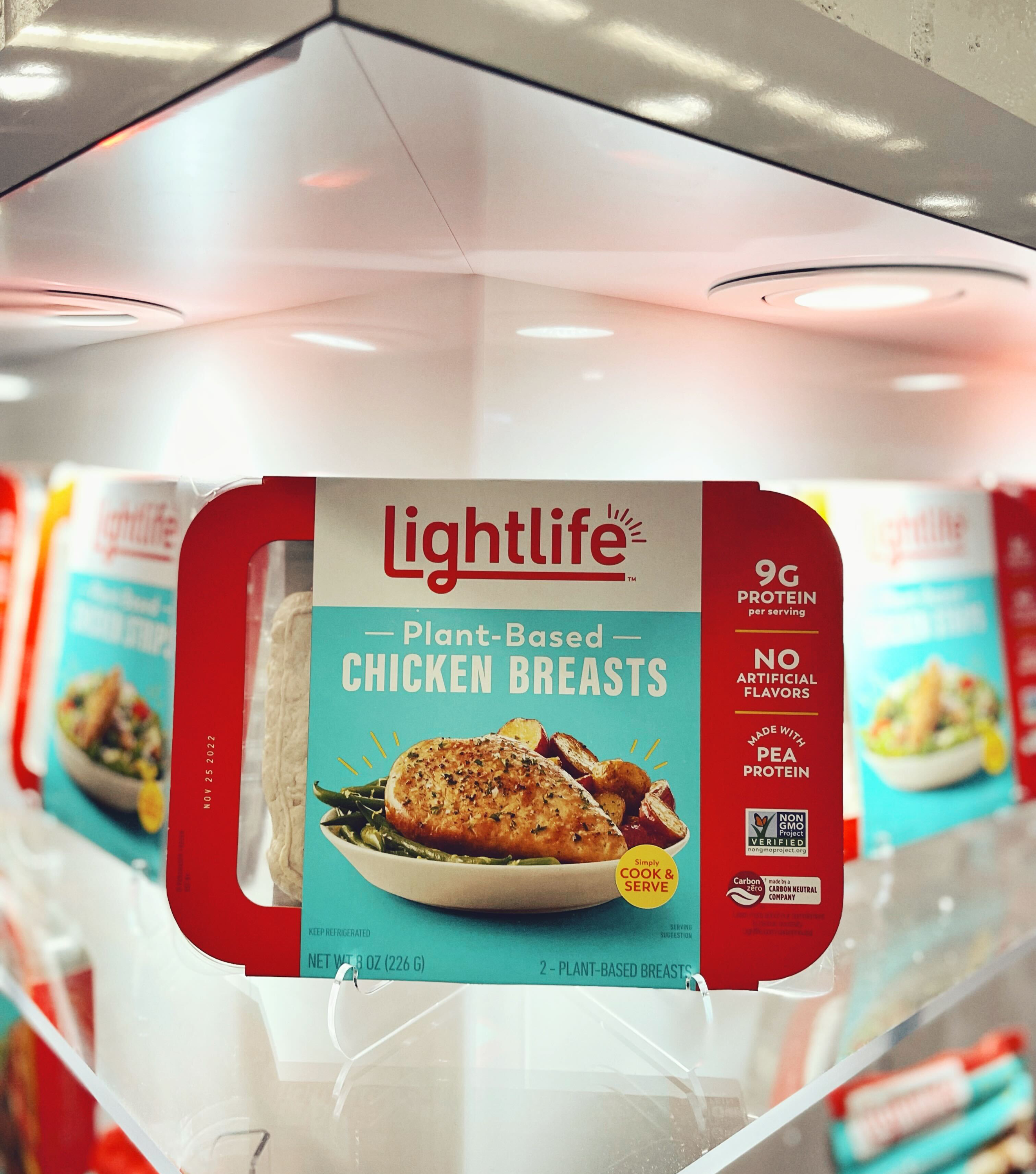 Sarah McLaughlin for VegNews
4 Vegan products dominate Expo West
In other new product news, the VegNews team is in Anaheim, Calif., this week for Natural Products Expo West, a major food show that brings together vendors, industry professionals and hungry guests from all over the world. COVID-19 shut down Expo West for two years, but it's back in full force in 2022, and new vegan products are everywhere.
In the meat substitute category, new plant-based varieties are coming in left and right. Plantera Foods, the plant-based arm of Brazilian meat giant JBS, makes vegan bacon and chicken cutlets under its Ozo brand, which already offers vegan ground beef and sausages. Lightlife expands its plant-based meat offering with whole chicken breasts and tempeh cubes. Field Roast is expanding its meat selection with Vegan Sweet Chili BBQ Chicken Bites.
As for seafood, OmniFoods, an importer from Hong Kong, is bringing its non-fish seafood line to the US and we sampled a breaded tenderloin which is a perfect match for fish and chips. Plant-based seafood brand Good Catch Foods was sampling its vegan salmon while Current Foods wowed visitors with its fishless (and sushi-grade) tuna and smoked salmon.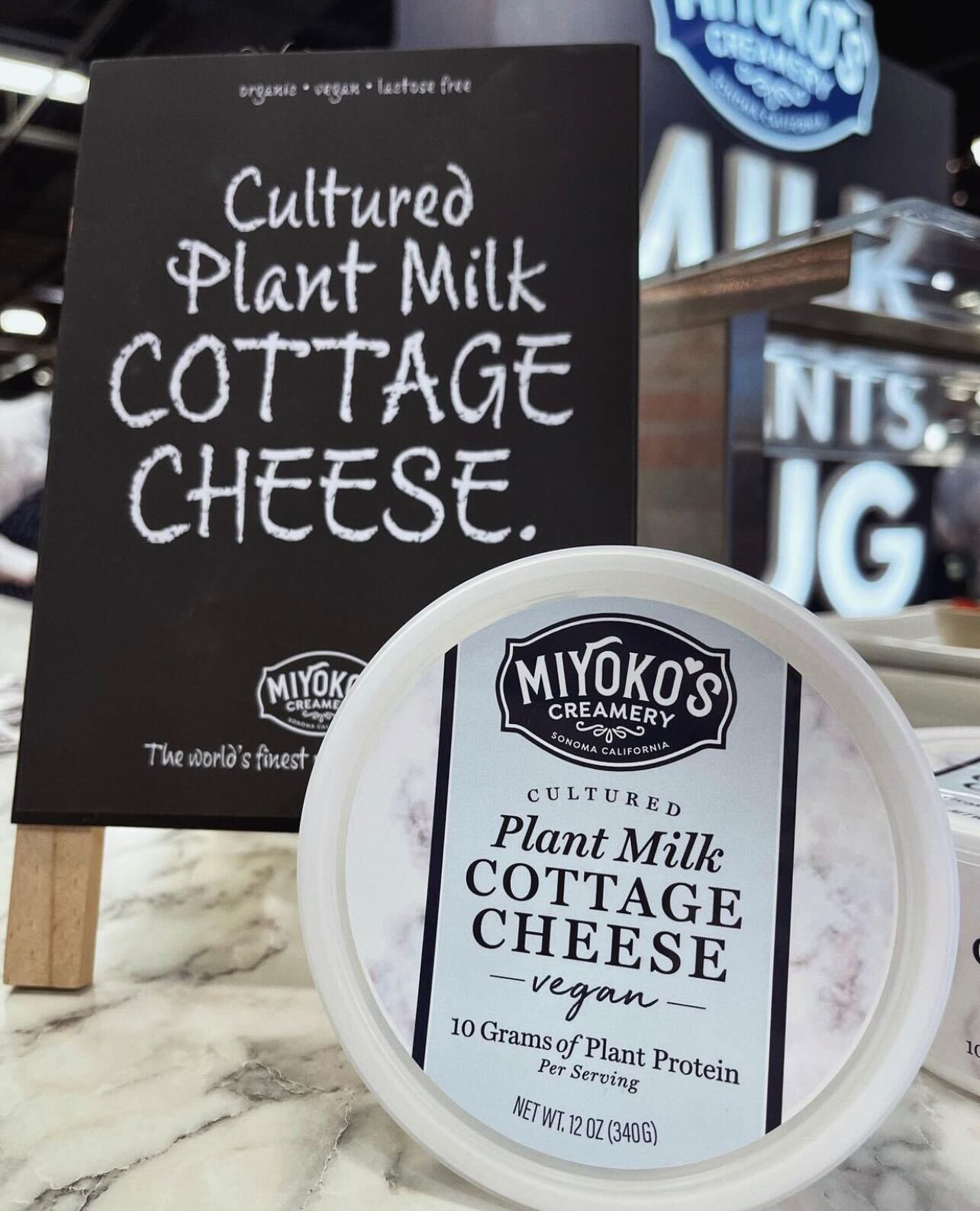 Sarah McLaughlin for VegNews
Dairy free cheeses were also everywhere. Field Roast's new Chao Creamery Queso is the perfect nacho-topper and comes with a nice hint of spice. Miyoko's Kitchen never fails to please at Expo West and this year the brand created a first vegan cottage cheese on the market. Daiya Foods came to the Expo with a variety of new products, ranging from vegan halloumi to grill to flatbreads made with its cheeses in three flavors and four-cheese mix packs that include new vegan cheeses such as asiago and the asadero.
Of course we saved room for dessert and the vegan options were seemingly limitless. Ripple Foods previewed its thick and creamy pea protein serving (which it hopes to debut through foodservice providers like IKEA). UK importer Wicked Kitchen introduced a new range of ice creams made from lupine beans and the creaminess did not disappoint. From Revolution Gelato's Turtle Gelato Pie (yes, a pie that's also ice cream topped with caramel, chocolate, and pecans) to Dandies' new jumbo marshmallows, the new vegan candies didn't disappoint.
For the latest vegan news, read:
Burger King opens vegan location in London with 25 plant-based options
Plant-based diet slows rate of cognitive decline in older black adults
Coconut Bliss' New Dairy Line Outrages Customers