It seems like every week in the world of vegan food news is more exciting than the last and this week is no exception. Oatly's soft serve gets a fall makeover with a new Pumpkin Spice flavor at 16 Handles. Ghirardelli is getting into vegan chocolate chips just in time for baking season. Van Leeuwen launches an exclusive vegan flavor with Sprouts which is three dessert rolls in one. Read on to find out more.
1Ghirardelli's new dairy-free baking chips
We're going to bet this baking season will be one for the books. That's because Ghirardelli just released new vegan chocolate chips that we can imagine using in many cookies, breads, and pancakes this holiday season.
Ghirardelli
Among its chocolate-making peers, some of whom are going completely vegan, Ghirardelli is a holdout in offering dairy-free chocolate, but that all changes with its new chips. The new dairy-free dark chocolate baking chips contain 52% cocoa and can be found in the baking aisle for a suggested retail price of $5.99 per bag.
"We continue to look for ways to innovate in the baking chocolate category that respond to changing consumer preferences and introduce products that everyone can enjoy," said Megan Wright, chief marketing officer at Ghirardelli, in a statement. .
"Consumers looking to reduce their dairy intake or are looking for plant-based chocolate options can now turn to Ghirardelli's new dairy-free dark chocolate chips to enhance their delicious treats. »
2Crazy Brownies
With Halloween right around the corner, the Killer Brownie Co. seems to mean business. And this year, the Ohio-based company is launching its first vegan brownies, starting in wholesale and catering this fall, then expanding to consumers in the spring of 2023.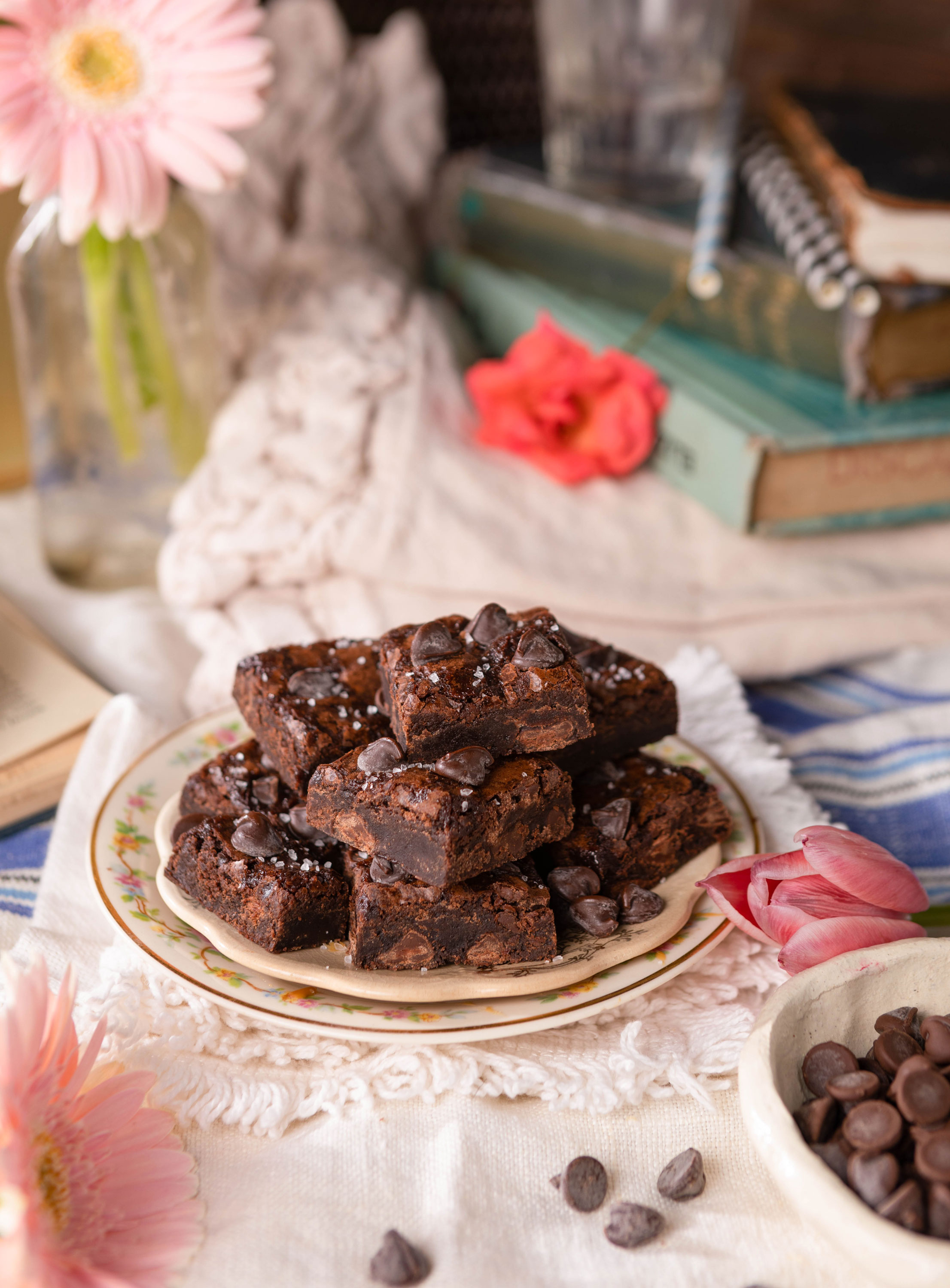 Killer Brownie Co.
"The plant-based brownie took years to make, and ingredient shortages over the past two years have forced us to reinvent this product multiple times," said Julia Hoy, director of product management at Killer Brownie Co., in a statement. . "But we were eventually able to develop a plant-based brownie that had the texture and flavor that we liked, and then tweaked it a little more to make it a brownie that we liked."
The new vegan brownies are made with creamy oat milk and are finished with semi-sweet chocolate chips and a generous sprinkle of sea salt.
"We are excited to bring the delicious Killer Brownie experience to a new audience and hope we can expand our plant-based line in the future," Hoy said.
3Van Leeuwen's new flavor
From Peanut Butter Brownie Honeycomb to Churros & Fudge, ice cream brand Van Leeuwen does the most when it comes to its vegan flavors. This week, the New York-based brand launched its first exclusive flavor, Vegan Banana Bread Pudding, made in collaboration with Sprouts Farmers Markets.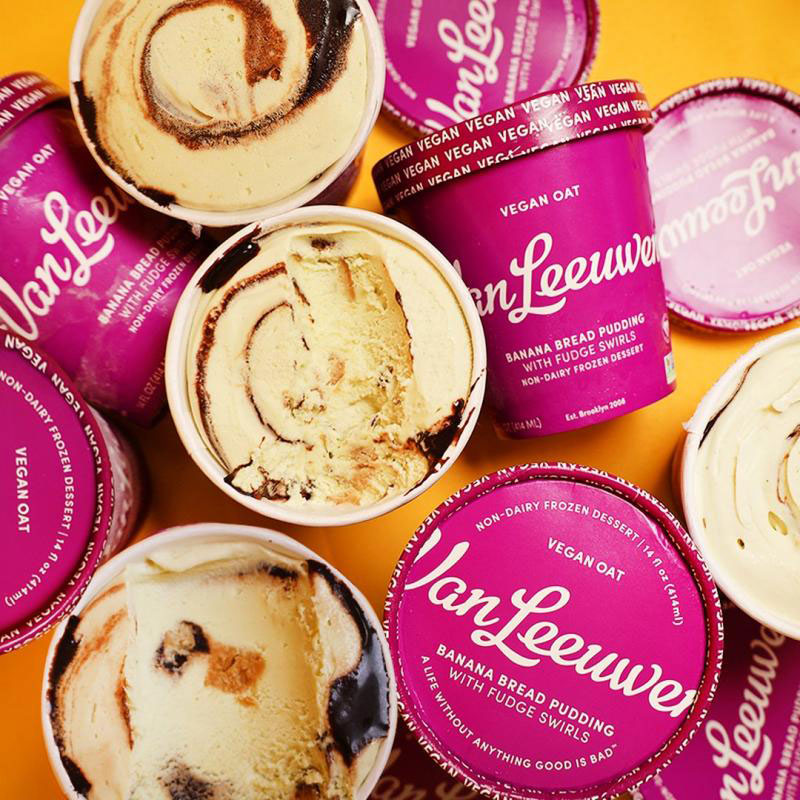 VanLeeuwen
Is it banana bread? Is it pudding? It's all that and more (as in, it's also vegan ice cream). The base here is oat milk with a banana flavor that's swirled with fudge. The pint is the first to launch in several exclusives Van Leeuwen is working on with Sprouts, which include non-vegan novelty bars.
"Sprouts has been an incredible partner for Van Leeuwen over the past few years, so we couldn't be happier to launch a new pint flavor and two new ice cream bars exclusively at Sprouts stores," Ben Van Leeuwen, Co-Founder and CEO of Van Leeuwen, said in a statement. "Sprouts has always been known as the grocery chain that features brands that truly care about the ingredients it shares with customers, so we feel exceptionally honored that Sprouts has given us the opportunity to launch new products exclusively in its stores.
"We also wanted to give a unique twist to another nostalgic treat, banana bread pudding, but create it as a vegan flavor," Van Leeuwen said. "We love providing premium ice cream for everyone, so we're excited to offer vegans another delicious flavor to add to their freezers."
The new pint Vegan Banana Bread Pudding is available at 390 Sprouts stores in 23 states.
4Oatly's Pumpkin Soft Serve
It's weird to think that pumpkin spice season has been in full swing for over a month, but if you're craving a bit more of that classic fall flavor, head over to 16 Handfuls where a new Oatly's offer will tickle your PSL leanings.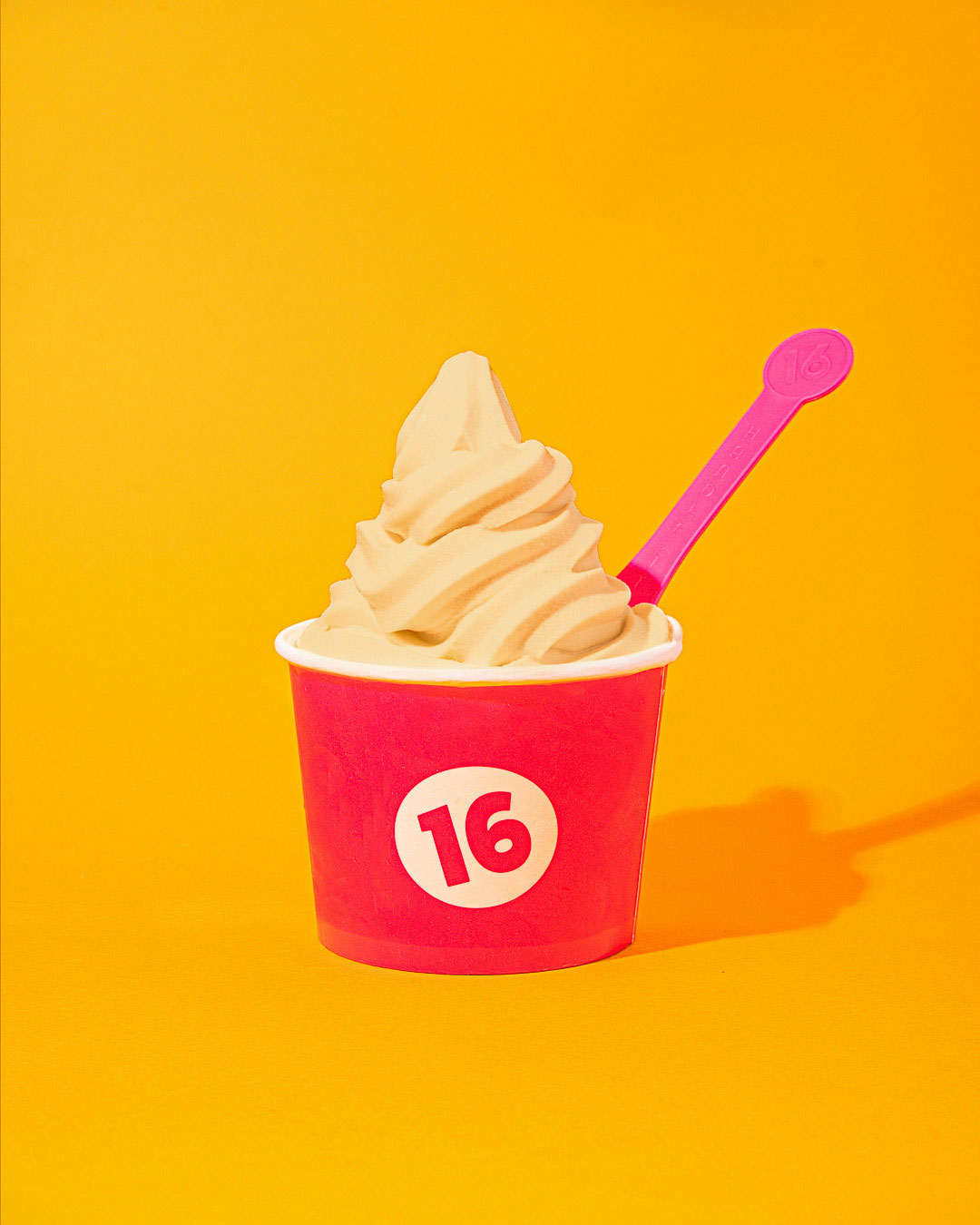 16 handles
"We are excited to bring this non-dairy Pumpkin Spice flavor to all of our stores this fall," 16 Handles CEO Neil Hershman said in a statement. "Pumpkin is always one of our most popular seasonal flavors, and partnering with Oatly on this brand new recipe is the perfect way to start the season."
The new flavor is the latest in a long-standing collaboration between Oatly and 16 Handles, which appears on the menu in seasonal flavors such as chocolate cake and marshmallow and s'mores offered this summer.
First opened in 2008, the soft-service store now operates 30 locations in five states. The Pumpkin Spice flavor is available for a limited time until October, giving you plenty of time to get your PSL fix and switch to Peppermint.
4Peppermint from Dr. Bronner (chocolate and soap)
Speaking of peppermint, Dr. Bronner just expanded his line of chocolates with a flavor that might sound very familiar. That's because its new chocolate flavor is Cool Peppermint Cream and the packaging matches the label of its similar soap.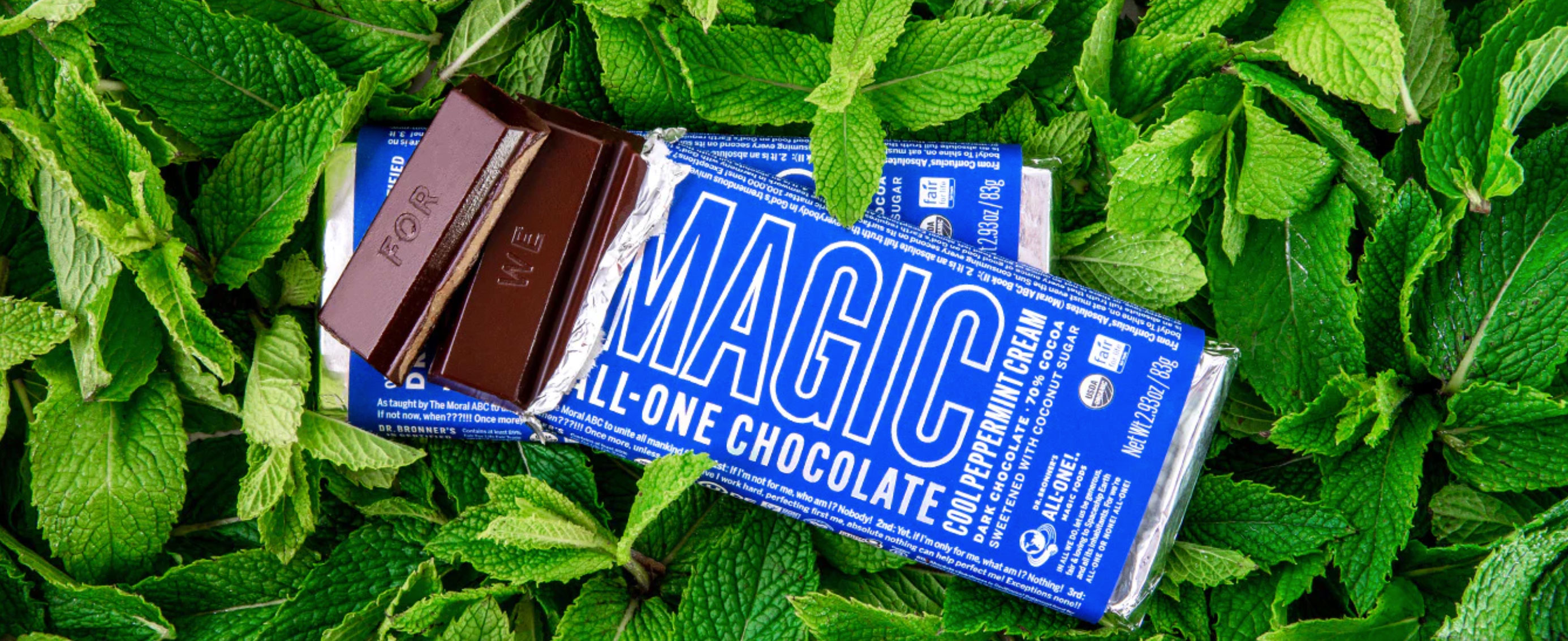 At Dr. Bronner's
"Peppermint is synonymous with both my grandfather and the company he founded. It was therefore natural for us to add Cool Peppermint Cream to our Magic All-One Chocolate line," said Michael Bronner, President of Dr. Bronner's, in a statement.
"The taste of each bar's sweet, sweet peppermint filling, made with coconut sugar instead of cane sugar, is pure nostalgia," says Bronner. "We offer this flavor as another example of delicious vegan chocolate, ethically sourced from regenerative organic and fair trade supply chains."
Since 1948, Dr. Bronner's has been making its signature soap with ethically sourced ingredients. In 2021, the brand has extended its "all-in-one" philosophy to its first chocolate line and is working with partner farmers in Ghana to improve the health and productivity of palm and cocoa trees, which respectively provide the raw materials for its soap and chocolate lines. .
The new flavor joins the six existing flavors of Dr. Bronner's chocolate: Whole Toasted Hazelnuts, Salted Dark, Crispy Hazelnut Butter, Whole Salted Almonds, Whole Salted Almonds and Smooth Coconut Praline.
At Dr. Bronner's
Fair warning: If you're a regular user of Dr. Bronner's Peppermint Soap and love a little chocolate snack in the tub, be sure to keep the two far apart.
For the latest vegan news, read: