A few years ago, vegan butcher shops offering handmade, sliced ​​deli meats that you can buy by the pound were virtually unheard of. Today, dozens of them are popping up across the country, from The Herbivorous Butcher in Minneapolis, MN to The Butcher's Son in Los Angeles, CA.
LA's Unreal Deli, which just launched its fully-slicable bulk plant-based meats at the deli counters of 125 select Hannaford supermarket locations, in three varieties: Unreal Steak Slices, Unreal Corn'd Beef and Unreal Roast Turkish. These vegan meats are now available for purchase in true hand-sliced ​​style for $12.99 per pound.
But the difference here from the vegan butcher shops we know and love is that Unreal Deli's deli meats are placed in the display case of the serving deli counter alongside traditional animal meats.
Unreal deli
The first vegan brand to be in this particular store, Unreal Deli is following the lead of brands such as Beyond Meat, which was the first to place its vegan burger meat in the supermarket meat aisle in a bid to really compete the meat inside. stores. Now, you can find other meatless brands such as Impossible Foods and Meatless Farm competing for space in the refrigerated meat aisle to present themselves to consumers looking to reduce their meat consumption.
Vegan meat in supermarket meat aisles
According to a 2020 report by The Good Food Institute (GFI) – which rated the 15 largest US food retailers on their assortment, merchandising and marketing of vegan products – 65% of retailers stock at least one vegan product. plant-based meat in the meat aisle, and 39% of retailers feature plant-based products alongside animal-based products in a promotion.
The report noted, however, that while a number of retailers offer impressive plant-based options on the shelf, many lack vegan protein options in deli, prepared food, salad bar, bar hot and take-out areas. "This leaves open a significant opportunity for leadership," the report notes. "Professional preparation of these products gives customers a taste of a dish they could prepare at home using items on the retailer's shelves, which could boost in-store sales."
In its report, GFI says that for plant-based products to be more accessible to the general public, they should be placed in the conventional animal-based categories or integrated into the meat and vegan aisles. "Given the critical importance of in-store placement to household penetration, as well as lessons learned from the rise of natural and organic products in conventional grocery stores, we strongly recommend segregated integrated or integrated merchandising," says The report.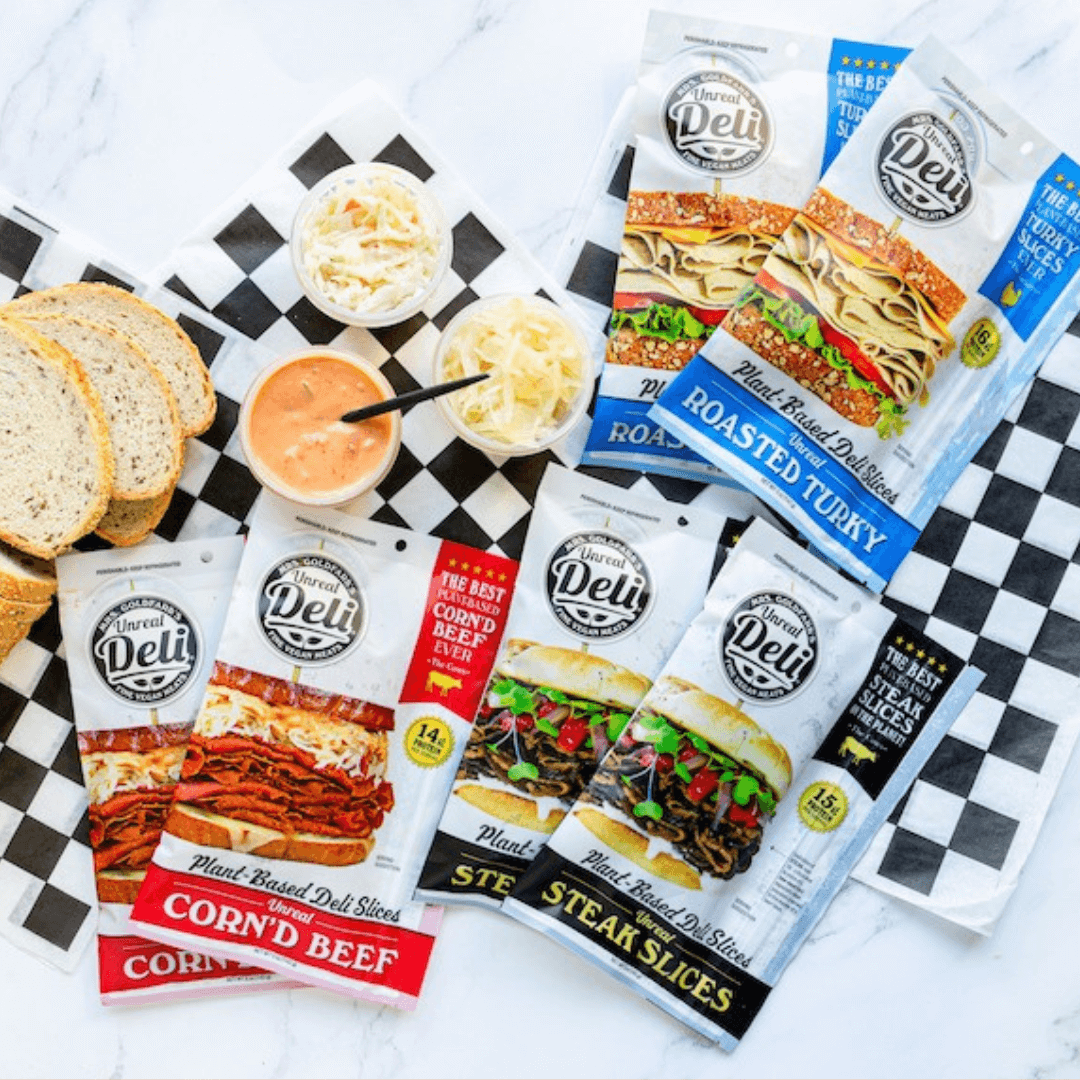 Unreal deli
For Unreal Deli, being the first vegan brand to make its way behind the deli counter means traditional shoppers will be more likely to see and try it. Since launching in 2019, the brand has been on a mission to bring authentic New York-style vegan deli meats into the modern era by bringing them to traditional meat counters in foodservice and retail.
Shortly after its launch, Unreal Deli founder Jenny Goldfarb, who is the great-granddaughter of New York deli owners, and her vegan meat brand caught the eye of Mark Cuban during a an investment reality show. shark tank, where Goldfarb received an investment of $250,000. Unreal Deli has since partnered with major brands including Quiznos, Veggie Grill, and Costco.
"This is a groundbreaking moment for our brand, and we're proud to offer consumers the same experience you would have buying animal-based deli meats," Goldfarb said in a statement. "My NYC deli roots are what inspired these products and we're excited to have our premium plant-based offerings available in key markets across multiple states behind the deli counter alongside other products. of traditional charcuterie."
Vegan brands reach more meat eaters
It may not be long before other vegan brands make their way into the supermarket deli counter. California-based startup Prime Roots unveiled its own vegan deli and deli meats earlier this year in a bid to directly reach meat eaters by stocking its products alongside meat in supermarket deli checkouts and sandwich shops across the country.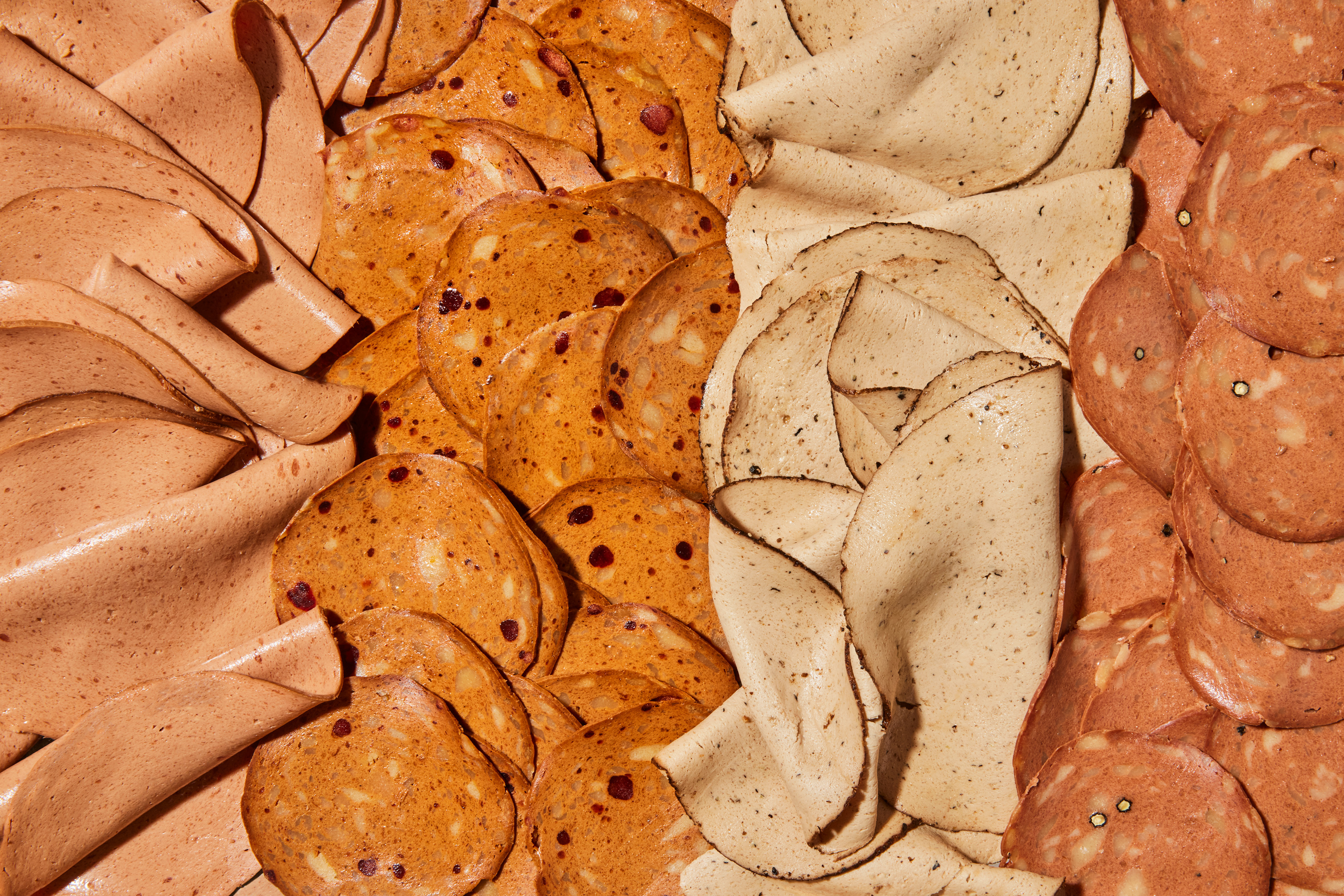 Primordial Roots
Unlike other plant-based deli meats on the market, the brand's Koji Meats range is made from koji (a Japanese mushroom) and offers both classic deli meats such as cracked black pepper turkey, smoked ham and pepperoni, as well as delicacies such as meatless meats. foie gras and pâté.
This week, two Bay Area grocers — Berkeley Bowl and Bi-Rite — added Prime Roots meats to their shelves. At Bi-Rite, the grocer is also offering Prime Roots vegan meats behind the deli counter as part of a new Prime Roots Vegetarian Muffaletta sandwich that features Prime Roots koji ham and salami, with dairy provolone cheese, olive and sun-dried tomato spread, arugula and lemon vinaigrette on a French roll. This sandwich can be made vegan by removing the cheese. The vegan meats are also available as part of the Berkeley Bowl's sandwich menu and will be sold by the pound in its deli crate in the coming weeks.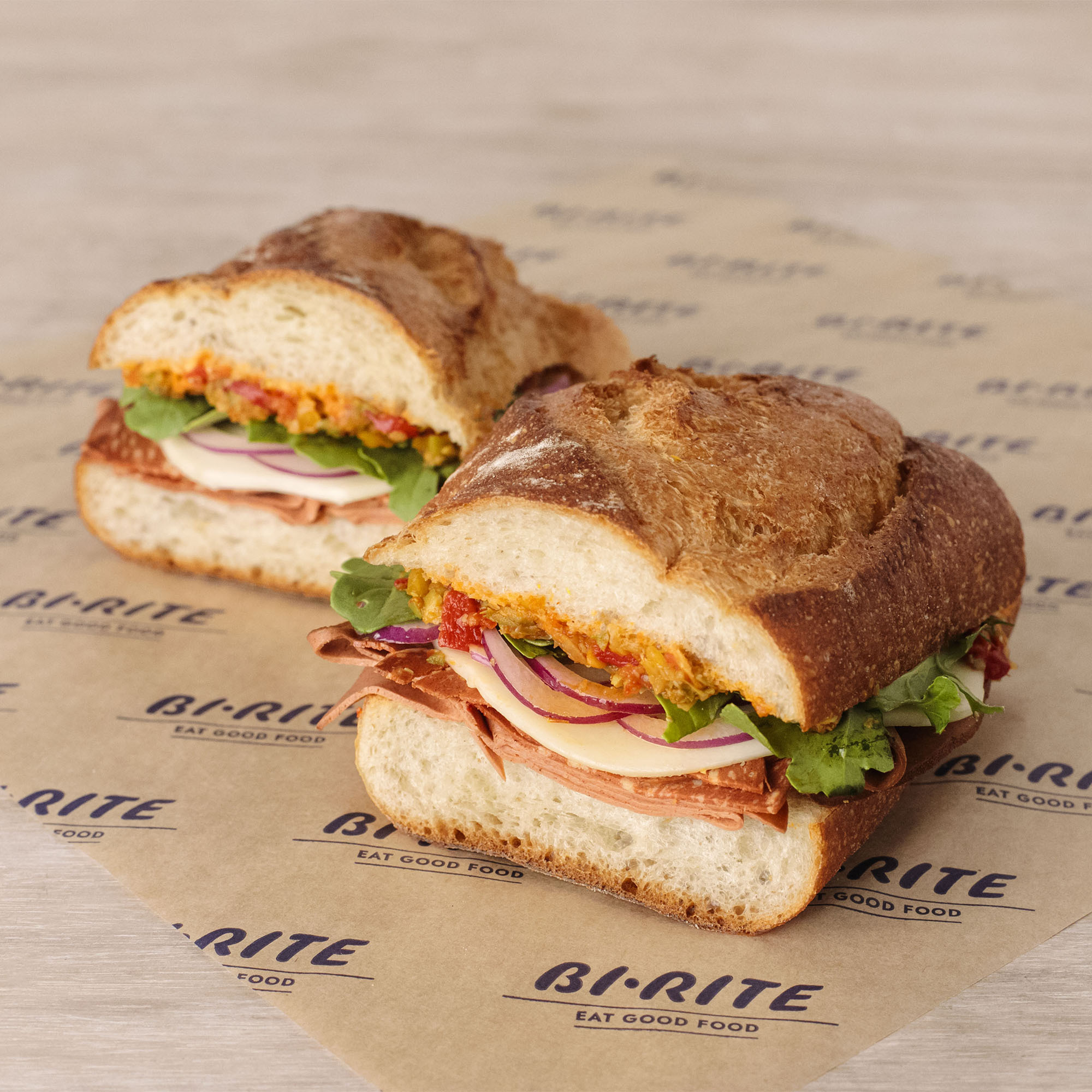 Bi-Rite
"I grew up as a deli kid – I would go to my local grocery stores and always get deli slices and try samples of fresh slices coming out of the slicer when I was at the store and I I really learned the culture and loved the meat of this experience, as did a lot of people," Kimberlie Le, co-founder of Prime Roots, told VegNews. "Americans consume more deli sandwiches than hamburgers per year, and consumption of both is extremely high. We want to be in a category where we can offer the meat experiences and culture that most people grew up with to really drive change.
For the latest vegan news, read: