Today, Los Angeles-based chain The Coffee Bean & Tea Leaf is adding its first vegan meat option to its menu. Available at 122 Coffee Bean & Tea Leaf stores in California, the new Beyond Breakfast Sausage Sandwich includes a vegan breakfast sausage patty (made by another California company Beyond Meat) as well as dairy-based cheese and a chicken egg on an English muffin. The Beyond Breakfast Sausage Sandwich, which was first tested in select San Diego stores, is not made to order and therefore cannot be ordered vegan.
"As two SoCal-based companies, we're excited to partner to bring our fans a delicious and convenient plant-based sausage breakfast option," said Tim Smith, vice president of services. Food in North America from Beyond Meat. "After the successful test in San Diego, we are proud that Coffee Bean & Tea Leaf is expanding the Beyond Breakfast Sausage Sandwich to stores in California to make it easier than ever for consumers on the go to enjoy the nutritional and environmental benefits. vegetable protein.
The sandwich is part of the fall menu at Coffee Bean & Tea Leaf, which also offers a variety of seasonal drinks, including Cookie Butter Latte, Pumpkin Latte, Pumpkin Cold Brew Coffee, and Pumpkin Spiced Chai Latte. The signature powders used to create these drinks contain dairy products.
"Our mission is to continue to drive innovation and provide our customers with the flavors and foods they crave, enjoy and that inspire joy," said Nurit Raich, Senior Director of Product Innovation. at The Coffee Bean & Tea Leaf. "We are delighted to offer our customers the Beyond Breakfast Sausage Sandwich which is made with delicious plant-based sausages to allow them to easily enjoy plant-based meat without sacrificing taste, and bring back the drinks." popular demand cookie butter indulgence and other nostalgic fall flavors.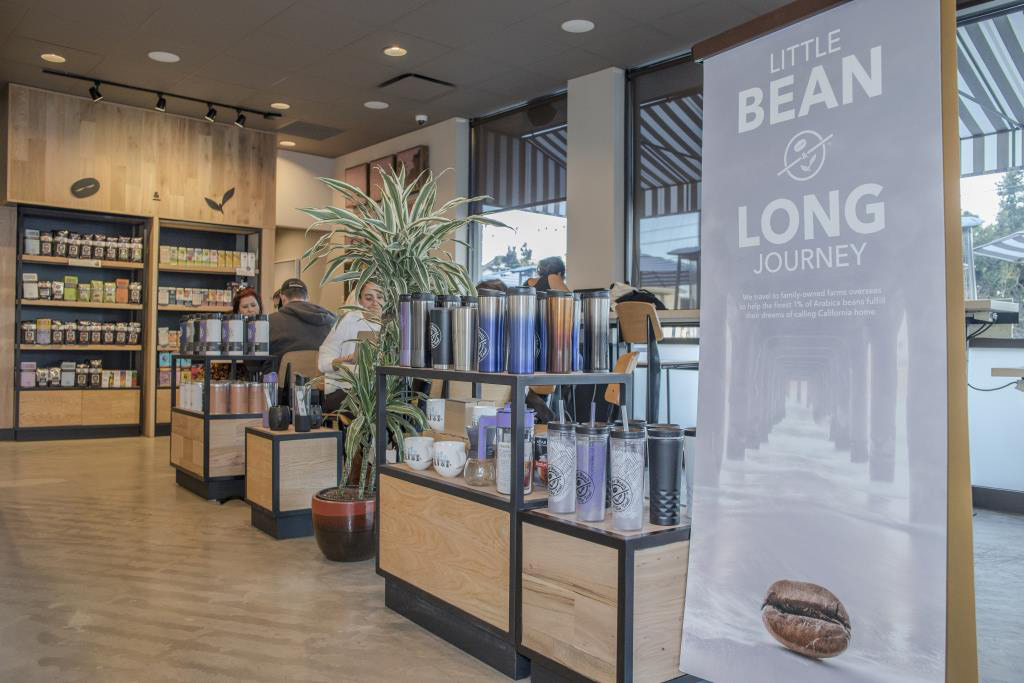 Dunkin ', Jamba, and Starbucks put vegan meat on the menu
Coffee Bean & Tea Leaf is the latest chain to add a vegan meat option to their menu. In 2019, Dunkin 'was one of the first coffeehouse chains to add vegan meat to its national menu when it teamed up with Beyond Meat to launch its first plant-based meat option in its over 9,000 locations. There, the Beyond Sausage sandwich was made on a vegan English muffin and included Beyond Meat's plant-based sausage patty served with an egg and dairy-based cheese.
To order this vegan sandwich, customers had to remove the egg and cheese, leaving behind only the Beyond Breakfast sausage and the English muffin, an easy sandwich to make at home as both items are widely available in grocery stores. In July 2021, Dunkin 'reduced the availability of the sandwich to several hundred locations in California, Arizona, New Mexico, Colorado, Missouri, Nebraska, Hawaii, Utah, Kansas and Wyoming. Dunkin 'is currently exploring other opportunities with Beyond Meat.
In April, the Jamba smoothie chain dove into plant-based meat with the addition of the Impossible Handwich to the standing breakfast menu at its 725 branches across the country. The sandwich includes a plant-based Impossible sausage patty and is served with dairy cheese on a toasted sprouted vegan grain bun. This sandwich can be ordered vegan by omitting the cheese.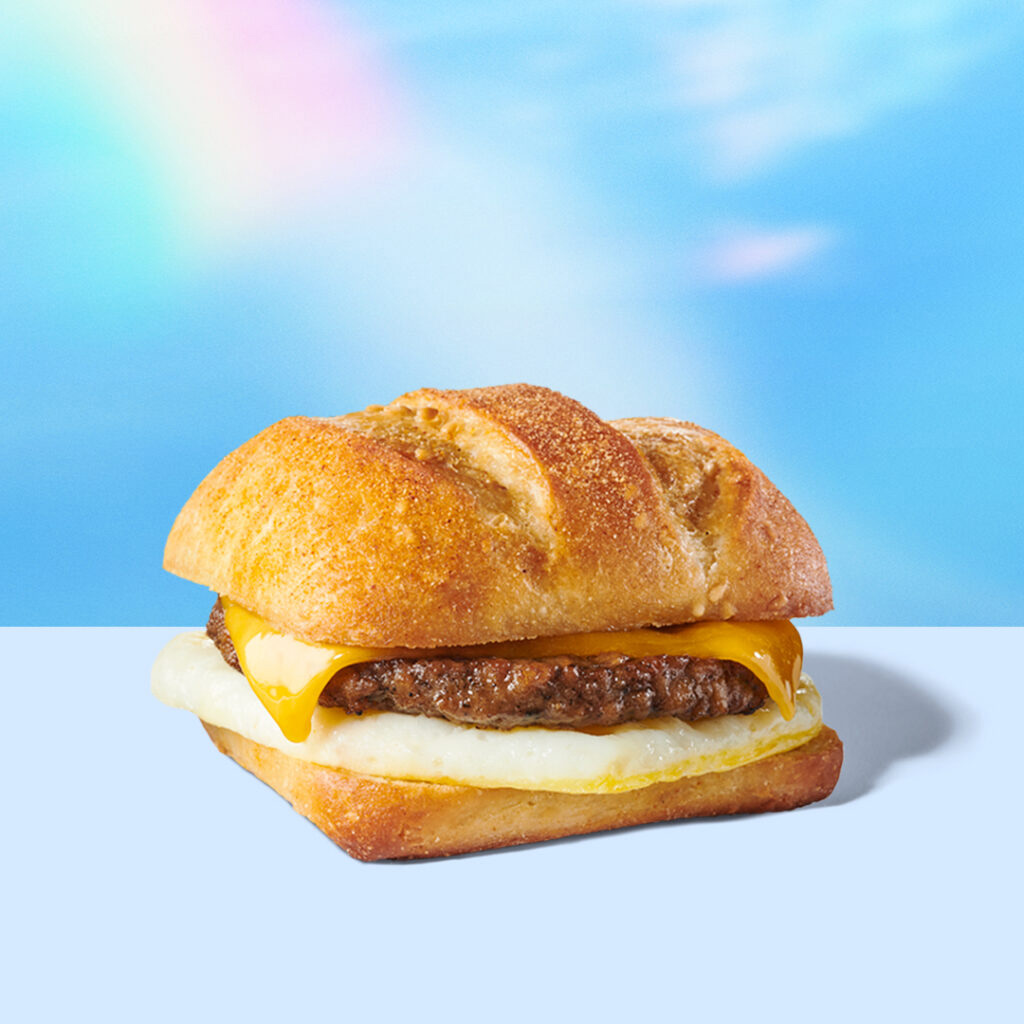 Coffee giant Starbucks has also started to adjust to modern appetites. In June 2020, Starbucks added the Impossible Breakfast Sandwich to the majority of its locations nationwide, marking the first time the chain has offered plant-based meat to its menu in the United States. This sandwich includes a plant-based Impossible sausage patty, dairy cheese, and chicken eggs, and cannot be ordered vegan because sandwiches from Starbucks, like those from Coffee Bean & Tea Leaf, are not made to order .
Vegan breakfast sandwiches
Although its Impossible Breakfast Sandwich is not vegan, Starbucks has tried an all-vegan breakfast sandwich in some places. The plant-based breakfast sandwich was first spotted at a Starbucks store in Issaquah, WA last fall. This vegan sandwich is made with Impossible sausage patty, vegan cheese, mung bean eggs and served on an English muffin. In January 2021, Starbucks expanded the Plant-Powered Breakfast Sandwich test region to Dallas, TX, but has yet to announce a nationwide rollout.
While the fate of the all-vegan breakfast sandwich at Starbucks is unknown, other chains have launched tempting options to meet the demand for vegan sandwiches. Last spring, Peet's Coffee added the All-Vegan Plant-Based Everything Sandwich to its menu at participating locations nationwide. The new sandwich features a Beyond Meat breakfast sausage patty, a JUST folded egg, dairy-free processed cheddar cheese and is served on a thin bagel.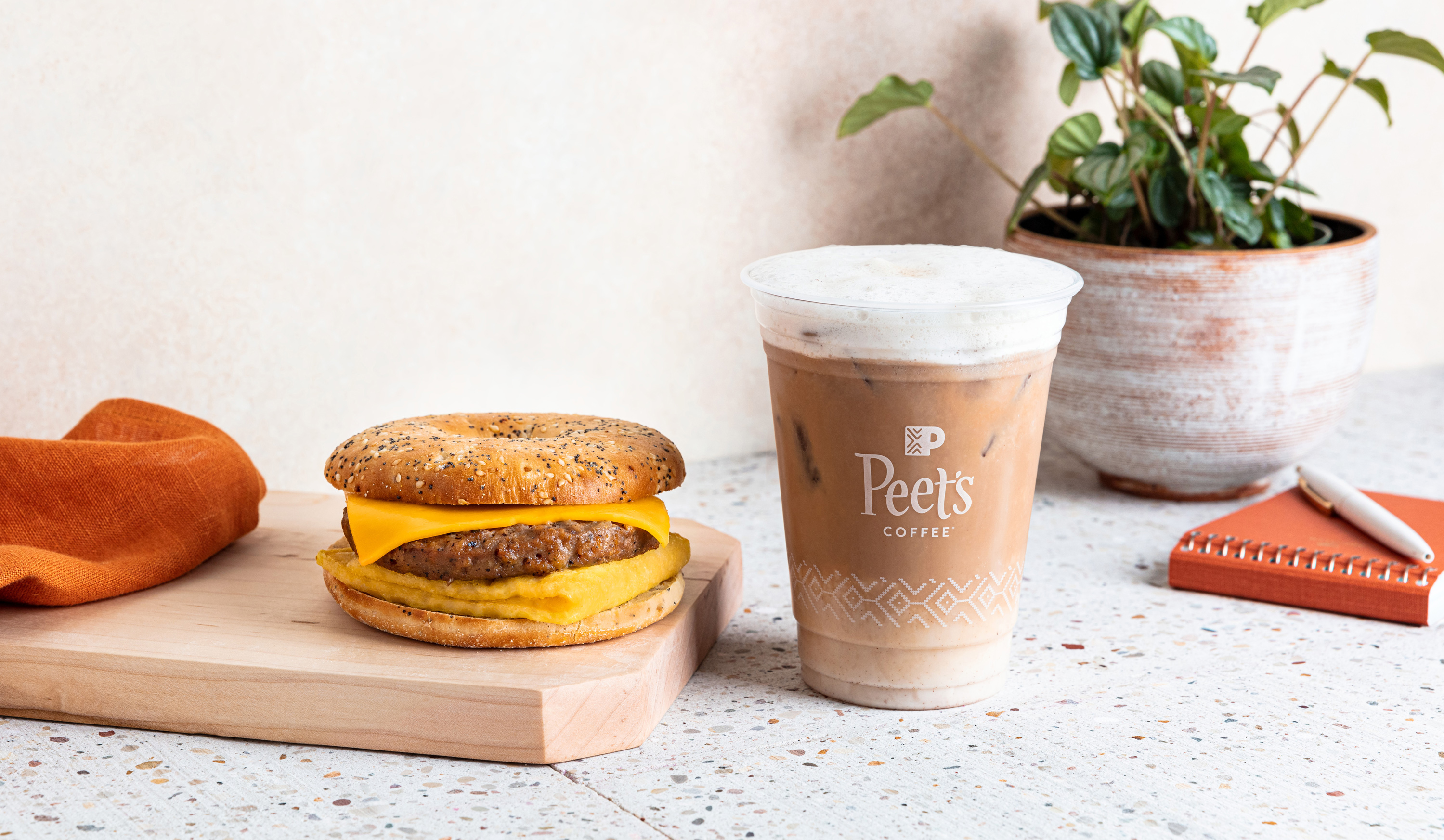 San Francisco-based Philz launched a similar vegan sandwich in March at its California locations. The Philz Plant Powered sandwich also includes JUST Egg Folded, Beyond Breakfast Sausage, and Daiya cheese. Less than two months after its launch, the vegan sandwich was Philz's second most popular hot breakfast dish.